A map that China has incorporated into its e-passports has violated Vietnam's sovereignity to the Paracel and Spratly islands as well as Vietnam's sovereign rights and jurisdiction to related maritime areas in the East Sea, said the Vietnamese Ministry of Foreign Affairs' Spokesman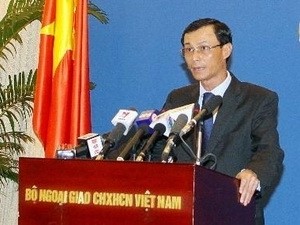 Vietnamese Foreign Ministry's Spokesman Luong Thanh Nghi protests China's sovereign claims in e-passport at the news conference in Hanoi on Nov.22, 2012.
Vietnamese Foreign Ministry's Spokesman Luong Thanh Nghi said on Thursday that the Vietnamese government had sent a diplomatic note to the Chinese embassy in Hanoi, demanding that Beijing remove the "erroneous content" printed in the passport.
Philippine Foreign Secretary Albert del Rosario told reporters in Manila that he also sent a note to the Chinese Embassy that his country "strongly protests" Beijing's inclusion of an image showing China's claimed maritime borders in its new passport.
Del Rosario says China's claims include an area that is "clearly part of the Philippines' territory and maritime domain."
An UK diplomat in Beijing was quoted as saying by FT that sovereign claims in passports was a serious escalation.
The AP wrote that China maintained it had ancient claims to all of the East Sea, despite much of it being within the exclusive economic zones of Southeast Asian neighbors.
The potentially oil- and gas-rich East Sea islands and waters also are claimed by the Philippines, Vietnam, Taiwan, Brunei and Malaysia, the agency added
There are concerns that the disputes could escalate into violence. China and the Philippines had a tense maritime standoff at a shoal west of the main Philippine island of Luzon early this year.
The United States, which has said it takes no sides in the territorial spats but that it considers ensuring safe maritime traffic in the waters to be in its national interest, has backed a call for a "code of conduct" to prevent clashes in the disputed territories. But it remains unclear if and when China will sit down with rival claimants to draft such a legally binding nonaggression pact.