A workshop was launched in Hanoi on September 17 by the Ministry of Labour, Invalids and Social Affairs in cooperation with the US Department of Labour and the International Labour Organisation (ILO), to develop a project on the prevention and reduction of child labour in Vietnam.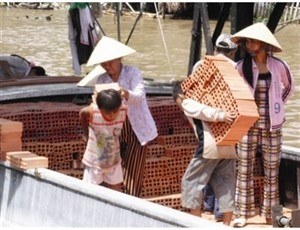 Illustrative (Sourse: dan tri)
Delegates to the event agreed that the Vietnamese Government has made significant achievements in childcare and child protection, especially with regard to preventing and reducing child labour in recent years.
However, surveys showed that 9.6 percent of children aged 5-17 in Vietnam, or 1.75 million , are child labourers. Around 85 percent of child labourers are in rural areas, and 15 percent are working in urban areas. Nearly 596,000 child labourers work more than 42 hours a week.
Working long hours can harm the children's physical and mental development. Many cannot go to school. Additionally, some are also victims of child abuse.
The project will address the issue of child labour in Vietnam in cooperation with social organisations, the business community and society at large.
The project will benefit children and adolescents under the age of 18, who are currently child labourers or likely to be, with a particular focus on the garment industry, agriculture and fisheries, and traditional handicrafts.
The children and their families will receive access to education, vocational training, social welfare and support services as well as income-generating activities.
During the workshop, policies on childcare and child protection were discussed, as well as measures to increase the public's awareness of the issue of child labour.