Vietnam, as a coordinator of ASEAN-China relations between 2009 and 2012, will make all efforts to contribute to increasing bilateral strategic partnership to a new level, for peace, development and prosperity in the region.
Prime Minister Nguyen Tan Dung made the commitment at the 12th ASEAN-China summit held in Cha-am, Hua Hin, Thailand on Oct. 24.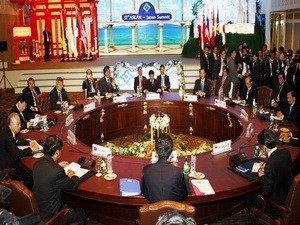 A session during the 12th ASEAN-China summit held in Hua Hin, Thailand on Oct. 24 (Photo: Vietnam News Agency)
Addressing the meeting, which was attended by Chinese Premier Wen Jiabao and other leaders of ASEAN member countries, PM Dung asked China and ASEAN to complete the implementation of the 2005-2010 action plan on "Joint Statement on Strategic Partnership for Peace and Prosperity" between them.
In order to promote ASEAN-China cooperation, the two sides should soon put forth an action plan for the next period, 2011-2016 to create favorable conditions for increased cooperation, bringing in benefits for both sides, he said.
The Vietnamese PM asked ASEAN and China to give priority to promote economic-trade cooperation, especially when necessary preparations for the establishment of the ASEAN-China free trade area was completed, to early operate the 10 billion USD ASEAN-China fund for investment cooperation and implement a plan to provide commercial credits worth 15 billion USD.
PM Dung expressed his hope that China would strengthen cooperation with and support for ASEAN's environmental improvement, climate change adaptation and infectious disease control, firstly in the Mekong sub-region countries.
Participated ASEAN leaders also appreciated remarkable progress in ASEAN-China ties in politics, economics, culture and society.
They said they hoped China will continue to support ASEAN in building an ASEAN community by 2015.
They also appreciated China's attachment of importance to increasing the strategic partnership with ASEAN as well as backing the block's role in ASEAN+3, the East-Asia Summit (EAS) and ASEAN Regional Forum (ARF).
The same day, PM Dung attended the 12th ASEAN-Japan Summit, where he stressed that Vietnam wished for Japan's further support and assistance to ASEAN in order to narrow development gap and implement an overall plan for an ASEAN community and the Initiative for ASEAN Integration.
Particularly, Vietnam wanted Japan to give support to development projects in Mekong sub-region countries, within the Vietnam-Laos-Cambodia development triangle and the East-West Economic Corridor (EWEC), he added.
He also held that ASEAN and Japan should prioritize further economic, trade and financial cooperation in order to overcome the impacts of the global financial-economic crisis.
ASEAN wished Japan would continue to provide financial and technical assistance for the implementation of the valid ASEAN-Japan Comprehensive Economic Partnership (AJCEP) agreement for closer economic link, he said, and asked Japan to help the block to recover from the economic-financial crisis.
He also expressed ASEAN's wish for further increase of the strategic partnership and comprehensive cooperation with Japan.
On the occasion, ASEAN member countries' leaders spoke highly of Japan's commitments and initiatives that aimed to increasing cooperation with ASEAN in coping with such challenges as food and energy security, climate change, natural disasters and diseases, terrorism and transnational crimes.
In the future, the two sides should take suitable measures to increase cooperation effectiveness in these fields, they said, reaffirming the importance of ASEAN-Japan relationships, for peace, sustainability and prosperity in the region and the world as a whole, they said.
At the 12th ASEAN-Republic of Korea (RoK) summit, PM Dung welcomed RoK "New Asia Initiative," including the one on development cooperation with ASEAN.
He also asked RoK to increase experience sharing with ASEAN, expand human resource training, and raise the number of scholarships granted to ASEAN students.
He held that the two sides should to focus more on economic, trade, financial and transportation infrastructure cooperation to help each other overcome the global financial and economic crisis and ensure post-crisis sustainable development.
Firstly, the two sides should speed up the implementation of the ASEAN-RoK free trade area and enhance economic cooperation through bilateral and multilateral framework, such as ASEAN plus 3 and EAS, he said.
He also asked for bilateral cooperation between ASEAN and the RoK in coping with such challenges as food and energy security, environment and climate change, natural disasters and diseases and others.
All leaders to the meeting agreed speed up the implementation of an agreement on multilateralization of Chiang Mai initiatives and the one on the development of Asian bond market within ASEAN+3 framework.
While attending the seventh ASEAN-India Summit, PM Dung said the two sides should increase cooperation the implementation of India's commitments and initiatives in order to strengthen cooperation with and assistance to ASEAN, including the ASEAN-India science-technology fund and the ASEAN-India Green fund.
On the occasion, PM Dung thanked India for its commitment to recognize Vietnam as a fully market economy as well as its support to set up English training and business development centres in Vietnam.
ASEAN and Indian leaders welcomed the signing of the ASEAN-India trade agreement, saying it will facilitate the both sides in reaching their target for bilateral trade of 70 billion USD in the next two years.
During the busy day, PM Dung attended the ASEAN plus Three Summit (with China, the RoK and Japan).
For future development orientation, the Vietnamese PM suggested the countries focus all resources to implement a joint declaration on East Asia cooperation and ASEAN+3 action plan for the 2007-2017 period.