Vietnam's Prime Minister Nguyen Tan Dung attended the plenary session entitled "Reshaping global governance" held in Davos, Switzerland, on January 29 as part of the ongoing World Economic Forum (WEF).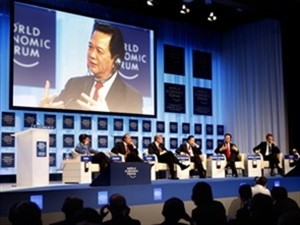 Vietnamese Prime Minister Nguyen Tan Dung delivers a speech at the World Economic Forum in Davos on Jan. 29 (Photo: Vietnam News Agency)
Prominent among those present at the session were the Presidents of Mexico, the Republic of Korea and South Africa, and the Prime Ministers of Canada and Spain.
During the session, the leaders discussed, analysed and put forth directions to deal with shortcomings regarding current global issues such as climate change, the economic crisis, and economic development combined with hunger elimination and poverty reduction.
The leaders agreed that the global economic crisis has revealed a series of shortcomings in the global governance system, mandating the need to reform and enhance governance around the world.
This reform requires proactive efforts from each and every member of the international community no matter whether they are big or small, they noted.
In his speech, PM Dung said "It is no doubt that one of the most urgent demands is to generate greater democratisation in our global governance to make it better reflect the role and interests of countries, notably the developing nations."
While sharing Vietnam's experiences, the PM emphasised the need to take into consideration both the subjective and objective causes when tackling hunger and poverty in a country.
Nations first should make the best of their internal strengths to eliminate hunger and reduce poverty, and developed countries that cause famine and poverty for others must share responsibility in this endeavour.
At the session, the leaders also touched upon measures to effectively use the aid provided by developed nations to poor countries, as well as solutions to reduce gas emissions and turning the G-20 into a new and effective global governance mechanism.