Vietnam has a fluctuating birthrate and imbalance in the sex ratio and its population has a low physical quality, Dr Duong Quoc Trong, head of the General Office for Population and Family Planning, told the media on August 20 following the 2009 population and housing census.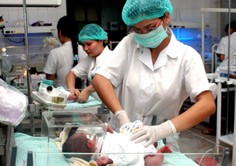 Newborn babies at a HCMC hospital. A health expert has said the physical quality of Vietnam's population is poor (Photo: VNA)
As of April 4, the country's population was 85,789,573, making it the 13th largest in the world and the third among ASEAN members.
The average annual population growth since 1999 has been 1.2 percent, the lowest rate in the last 50 years.
The most worrying problem, Dr Trong said, is the low physical quality of population which has blocked the country's development. He was referring to the average height and weight and other  physical aspects.
Vietnam has risen a long way in the human development index, but remains at 105th out of 177 countries.
The ratio of people suffering from mental and physical health conditions is 1.5-3 percent of the population and this is likely to rise because of the increasing pollution.
Vietnam has 5.3 million people with disabilities, or 6.3 percent of the population.
Vietnam's healthy life expectancy is 60.2, which puts it at 116th place out of 174 countries. With the country's average life expectancy being 72.2, this means each person suffers 12 years of poor health on average.
Dr Trong stressed that the most important duty of the authorities in future is to enhance the population quality by reducing the number of children with congenital malformations to below 1.5 percent and increasing life expectancy to 75 by 2020.
To achieve these goals, relevant authorities will have to improve screening of premarital and prenatal health of women and of newborn babies.
In Korea, 99 percent of newborn babies are screened while in Vietnam, just one percent is screened.

An increase of gender imbalance has seen the sex ratio rise from 107 boys per 100 girls in 1999 to 115 boys per 100 girls at present.
In response, Dr Trong said that it is very difficult for Vietnam to prevent the imbalance in the sex ratio if the country just depends on education and propaganda. The government should have stricter sanctions on those not complying with the law.