The Vietnamese government has presented a national report on the limits of its continental shelf which lie 200 nautical miles beyond the country's baselines in the northern part of the East Sea.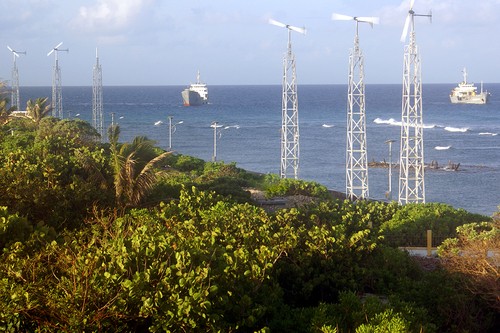 Windmills on Large Truong Sa Island, Spartly Islands in the East Sea. (Photo: Bui Tuan Khiem)
The report was presented by the government representatives at the 24th plenary session of the UN Commission on the Limits of the Continental Shelf, which convened in New York on Aug. 27 and 28.
At the meeting, Vietnam and Malaysia also presented a joint report on the continental shelves of both countries, which extend out over 200 nautical miles from their baselines in the southern part of the East Sea .
The head of the Vietnamese delegation emphasised his government's efforts in mapping out and completing the report pursuant to the UN commission's technical and scientific requirements.
The compilation and submission of the report to the UN commission were conducted in line with the 1982 United Nations Convention on the Law of the Sea, he said.
The head delegate noted that the submission does not affect existing sea demarcation or the stance of the concerned countries on territory and sea disputes, including Vietnam 's claim to sovereignty over the Paracel (Hoang Sa) and Spratly (Truong Sa) islands. Vietnam continues to advocate the settlement of all disagreements related to the East Sea through peaceful negotiations based on international laws, especially the 1982 UN Convention and the Declaration on the Conduct of Parties in the East Sea (DOC).
The Vietnamese representative proposed the UN commission set up sub-committees to examine Vietnam 's national report in accordance with the 1982 UN Convention, as well as the commission's regulations to ensure the legitimate rights and obligations of coastal countries.
The Vietnamese national report and the Vietnam-Malaysia joint report were previously submitted to the UN commission on May 6-7, 2009, as regulated by the UN.