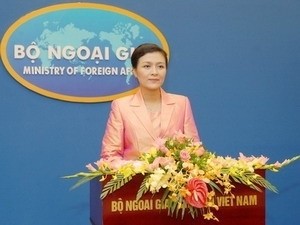 Vietnam's foreign ministry spokesperson Nguyen Phuong Nga
Vietnam protests the decision by China's Hainan provincial authorities to establish village committees on Phu Lam and Dao Cay Islands in Vietnam's Hoang Sa (Paracel) archipelago, said the Vietnamese foreign ministry's spokesperson.
Spokeswoman Nguyen Phuong Nga voiced the nation's protest on November 16 in reply to a reporter's query about Vietnam's reaction to China's decision.
"Vietnam protests against this decision as it infringes upon Vietnam's territorial sovereignty," the spokeswoman said, noting that the country has sufficient historical evidence and legal grounds to prove its sovereignty over the Hoang Sa (Paracel) and Truong Sa (Spratly) archipelagos.
She stated that the decision neither conforms to mutual understandings reached by high-level leaders of the two countries nor benefits bilateral negotiations to seek a fundamental and long-term solution to sea-related issues between the two countries.
She reaffirmed, "Vietnam consistently maintains that all disputes should be resolved through peaceful negotiations on the basis of respect to international laws and international practices, especially the 1982 UN Convention on the Law of the Sea and the 2002 Declaration on the Code of Conduct of Parties in the East Sea, to maintain peace and stability in the region"