Vietnam has currently put on hold 2,013 public investment projects worth over VND6.5 trillion (US$311 million), according to a report presented by the Ministry of Planning and Investment.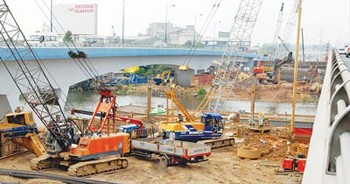 New Rach Chiec Bridge under construction on Hanoi Highway in District 2 of HCMC (Photo: SGGP)
Of the total, 1,206 with capital investments of VND3.8 trillion have been shelved while 897 projects have had investment funds slashed, currently valued at VND2.7 trillion.
However, several provinces and cities have yet to put a halt on public investment projects that are using the State budget.
Though construction work has been discontinued for this year, 638 projects using State budget and 2,000 others using local budget are still carrying on, regardless.
Though the time period to reduce or halt public investment projects has lapsed by two months, some provinces and cities have yet to follow the Government directive.
The Ministry of Planning and Investment has proposed to the Government to withdraw the entire capital amount allocated to projects that need to be placed on hold or projects that have yet to complete formalities of procedures. The revoked fund can then be used for programs on the East Sea and Islands under the Ministry of National Defense.