The total number of cases Vietnam has recorded so far is about 42,000 including 33 deaths all over the country since the beginning of the year, said the Ministry of Health on August 23.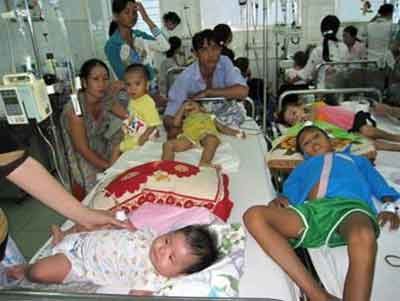 Children patients suffering dengue fever treated in a hospital
The number of people suffering from the mosquito-born viral disease amounted quickly in all parts of the country especially in the central and the highlands regions. 18 provinces and cities have reported the mosquito-born infection, announced the ministry.
The highlands provinces have seen 4,813 cases of dengue fever, nine times higher than in the same period last year.
Dengue fever - carried by mosquitoes - can lead to headaches, high fever and other flu-like symptoms, and even to brain haemorrhage. It is found in tropical and sub-tropical climates worldwide. The only way to prevent dengue virus transmission is to combat the disease-carrying mosquitoes.
Meanwhile, the southern provinces of Ben Tre, An Giang, Dong Thap and Soc Trang are battling massive outbreaks of the epidemic. Nguyen Ba Minh, director of the Department of Health in the Mekong delta province of Ben Tre, said the mosquito-borne disease has claimed five lives and approximately 3,000 people have been affected in the province especially in the two districts Ba Tri and Binh Dai.
The Mekong delta province of An Giang reported over 130 people suffering from the disease every week and approximately 2,300 patients have recorded so far, double against the same period last year. The government must take bold steps to contain an outbreak of dengue fever in the area.
The central provinces of Da Nang and Phu Yen have recorded 3,836 cases of dengue fever with one death.