The country is prepared for its role as chair of the Association of Southeast Asian Nations (ASEAN) next year, Prime Minister Nguyen Tan Dung said December 23 at a meeting in Hanoi with the General Secretary of ASEAN Dr. Surin Pitsuwan.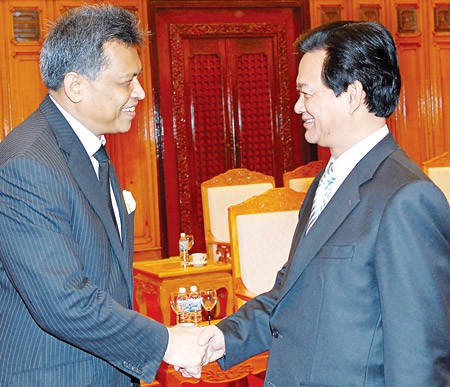 Vietnamese Prime Minister Nguyen Tan Dung (R) shakes hands with General Secretary of ASEAN Dr. Surin Pitsuwan at a meeting on December 23 in Hanoi. (Photo:SGGP)
During his two-day visit to Vietnam starting December 22, Dr. Pitsuwan met with PM Dung, Deputy Prime Minister Pham Gia Khiem, Minister of Industry and Trade Vu Huy Hoang, and Minister of Labor, Invalids and Social Affairs Nguyen Thi Kim Ngan.
Dr. Pitsuwan's visit was organized to discuss the priorities and action program of ASEAN for 2010 with Vietnamese ministries and sectors, and review preparations for Vietnam to become chair of ASEAN on January 1.
In its role as chair, Vietnam will prioritize intensifying solidarity and integration among ASEAN members; speed up cooperation among members to turn action plans into fruitful, concrete results; fully bring the ASEAN Charter to life; and effectively implement the process of building the ASEAN Community, said Mr. Dung.
In addition, Vietnam will also place great importance on enhancing dialogue and cooperation on issues of common interest, and increasing understanding and trust among member countries, Mr. Dung added.
The Prime Minister also proposed that the ASEAN General Secretary and ASEAN Secretariat closely coordinate with Vietnam, share information, and support the country so that Vietnam can successfully assume the role as ASEAN Chair next year.
At the meeting, Dr. Pitsuwan said he highly appreciates Vietnam's cooperation with ASEAN and believes that Vietnam will fully tap its advantages to build a strong ASEAN Community for the benefit of member countries and goals that ASEAN is aiming for.
This is the first time an ASEAN Secretariat has paid an official visit to a country that will chair ASEAN in the following year and also the first time an ASEAN country has set up a national committee to prepare for its year of ASEAN chairmanship.