The Vietnam Union of Friendship Associations hosted a ceremony to recognize the contribution of foreign non-governmental organizations (NGOs) to the sustainable development of Vietnam this year in Hanoi yesterday evening.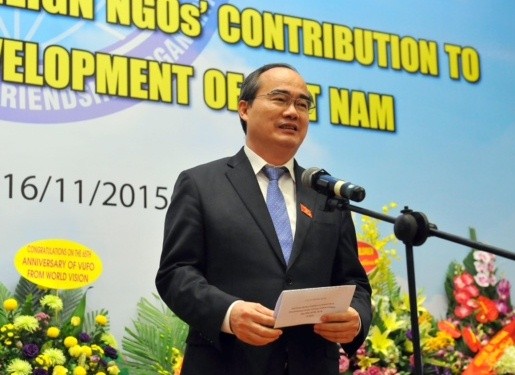 Mr. Nguyen Thien Nhan, chairman of the Vietnam Fatherland Front Central Committee, states at the ceremony (Photo: VGP)
Chairman of the Vietnam Fatherland Front Central Committee Nguyen Thien Nhan warmly welcomed representatives from 45 NGOs attending the event and emphasized its significance.
Despite having become a middle income nation, Vietnam has still faced with many difficulties and challenges such as war consequences, natural disasters and climate change, hunger elimination and poverty reduction, he said.
Foreign NGOs' contributions including experiences and human resources have considerably supported Vietnam to build and implement socioeconomic development strategies.
For the last five years, they have assisted Vietnam with US$300 million a year, a great source to the country.
The 45 organizations honored at the ceremony are outstanding ones in the community of 493 foreign NGOs regularly operating in Vietnam. Of these, 14 have been in the country for more than 30 years.
Mr. Nhan appreciated the sentiment, and sincere and effective cooperation and help of international friends, organizations and especially NGOs to Vietnam.
He believed that the friendship, cooperation and partnership between Vietnam and NGOs will continue to be strengthened; contributing to peace, stability and mutual understanding between Vietnam and other nations in the world as well as boost the country's socioeconomic development and global integration.