Deputy Prime Minister Nguyen Xuan Phuc held a meeting with the National Traffic Safety Committee on September 14, to discuss ways to curb the alarming rise of traffic accidents occurring in the country.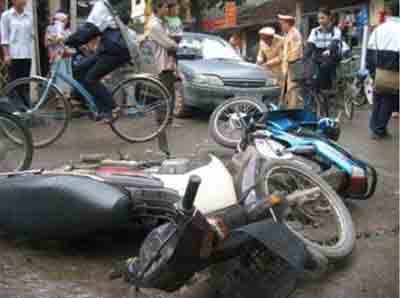 Careless driving can lead to fatal accidents
Traffic accidents have increased by the day, with almost 30 reported fatal motor crashes every day in Vietnam.
The meeting held in Hanoi, brought to light alarming statistics presented by the National Traffic Safety Committee (NTSC) in the past eight months of this year in which the country reported 8,984 traffic accidents that killed 7,550 people and injured 6,908. On an average, the country was reporting 30 deaths each day.
Last year there were 7,517 reported deaths and 6,721 injured people while during the same period this year, 42 more deaths and about 40 injured have been reported in train accidents.
NTSC said they would tighten measures to reduce accidents that involved drunk-driving with mandatory tests for drivers. Passenger bus drivers would also receive harsh penalties if found violating speed limits and motorbike riders would be fined for not wearing helmets.
The deputy prime minister emphasized that tightening control of traffic violators and reducing victims of callous accidents was of utmost importance.
Related agencies, such as transport units and the traffic police along with the entire state machinery must implement long term measures to resolve this grave problem, said Phuc.