Vietnamese Deputy Foreign Minister Pham Binh Minh presented Vietnam's Universal Periodic Review at the United Nations Human Rights Council's session on May 8 in Geneva, Switzerland.
The first time presenting its report on human rights practices to the UN, Vietnam prepared a national report, which was compiled within two years, covering every aspect of human rights in Vietnam.
Achievements
Vietnam's representative Pham Binh Minh emphasized the consistent policy of Vietnam: respecting and ensuring human rights. The Vietnamese Constitution points out that the civil, political, economic, social and cultural rights of every citizen are respected and stipulated in the Vietnamese Constitution and laws.
"Vietnam considers human beings as the goal and the driving force behind socio-economic development policies, and is consistent in ensuring and promoting human rights. Having maintained a stable and peaceful environment since national unification is a great achievement, laying a firm foundation for protecting and realising human rights in Vietnam," Minh said.
That policy is based on the Vietnamese State's acknowledge that human rights are the common value of the mankind, which is established through the struggling of nations in many ages. Vietnam's policy on human rights is based on its historical and cultural tradition of thousands of years.
"In Vietnam, 54 ethnic groups have lived together in peace for many generations. Vietnamese people love peace, humane values, are opening to the variety and absorb in harmony outside values," the Deputy Minister said.
He confirmed that Vietnam's human rights policy is designed based on the aspiration of Vietnamese people, who lost basic rights of human as colonial people.
He said since 1986, Vietnam has issued and amended approximately 13,000 laws and by-law documents, by which civil and political rights have been established more specifically and comprehensively.
Vietnam has joined almost all international conventions on human rights. It is the second nation in the world and the first in Asia to ratify the UN Convention on the Rights of the Child. It has also ratified 17 conventions of the International Labour Organisation.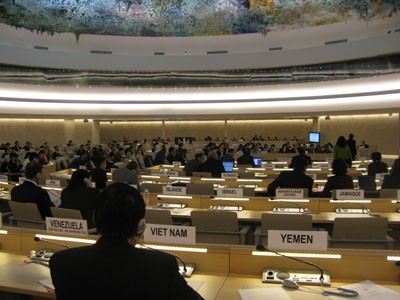 The UN Human Rights Council's session on May 8 in Geneva.
Vietnam is conducting a comprehensive program on administrative reforms in 2001-2010 to improve democracy and the effectiveness of the administrative machinery, through which better ensuring the people's interests.
"In Vietnam, the people voluntarily participate in elections to vote for their representatives from various social classes to the National Assembly and the People's Council at all levels," the representative said.
The guarantee of human rights in the fields of economics, society and culture in Vietnam has made great advance. The latest statistics show that per capita income has increased significantly, from US$200 in 1990 to US$1024 in 2008. The poverty rate has also fallen dramatically from 60 percent to 13.8 percent last year. Vietnam is recognized by the UN and many development partners to achive the most impressive achievement in poverty reduction. The UN said that Vietnam has reached and exceeded many UN Millennium Development Goals and can achieve all goals on schedule.
The Vietnamese government has undertaken to provide preferences and assistance to vulnerable groups in society such as women, children, ethnic minority people, people with disabilities, war victims and people living with HIV/AIDS. It has carried out a number of programmes such as national nutrition and immunisation for children, anti-tuberculosis, HIV/AIDS prevention and control, medical insurance and free medical check-ups for the poor and children under 6.
Currently, the number of female deputies to the National Assembly makes up 25.76 percent of the total, ranking 4th in the Asia-Pacific region. About 83 percent of women of working age get steady jobs.
Given its achievements, Vietnam has drawn major lessons of experience as follows: (1) putting human beings at the centre of national development, (2) human rights cannot be separated from national independence and national sovereignty, (3) how to combine the general values of human rights and particular circumstances of the nation, (4) increase international cooperation and dialogue on human rights, (5) how to maintain political stability and economic development while ensuring social welfare, and last but not least, (6) how to increase the people's knowledge and capability in enjoying these rights.
Challenges
However, Vietnam has faced certain challenges. Its legal system is not yet complete, especially in the field of human rights and sometimes overlaps to cause misunderstanding at grassroots level. This is the biggest snag in promoting social progress as well as exercising human rights.
In addition, due to the geographical location, different customs and living conditions, a segment of the population is limited to basic social services and knowledge of State law and policies. Despite a high and steady economic growth rate in recent years, Vietnam remains a poor country which has a low development level, with many people still leading hard lives in remote and mountainous areas and areas hit by natural calamities.
The country also faces the drawback of the market economy and the negative impact of the international environment such as epidemics and climate change. In addition, a certain number of State officials still have a limited knowledge of human rights.
The Vietnamese representative confirmed that Vietnam will continue giving priority to hunger eradication and poverty reduction, speed up the implementation of the people's healthcare policy, develop the social security network, foster the young generation, expand and improve the quality of the education and training system.
Other priorities will comprise: good implementation of the comprehensive program on administrative reforms, the strategy to develop and perfect the legal system and the judicial reform strategy.
The Vietnamese government will also sign some more international conventions on human rights and cooperative with international and regional institutions on human rights, including inviting special reporter on human rights to Vietnam.
"Human rights practices is one of the top priorities of the international community and Vietnam. The highest goal, which is also the specific expression of human rights in Vietnam, is that Vietnam will try at its best to build "rich people, strong country, just, democratic and civilized society," the Vietnamese representative affirmed.
After the Vietnamese Deputy Foreign Minister's presentation, representatives of member countries made comments, recommendations and raised questions to Vietnam. The 3-hour session closed at 5.30pm, local time (10.30pm, Vietnam time). VietNamNet will have further reports about this event.
The Universal Periodic Review (UPR) is a new and unique mechanism of the United Nations which consists of the review of the human rights practices all States in the world, once every four years.
The UPR session in Geneva on May 8 had the presence of 192 members of the UN Human Rights Council, many UN bodies and other international organizations. The Vietnamese delegation, led by Deputy Foreign Minister Pham Binh Minh, gathered representatives of many related state agencies, including the Ministry of Foreign Affairs, Ministry of Public Security, Ministry of Justice, the Supreme People's Court, the Ministry of Information and Communications, the Ministry of Labor, War Invalids and Social Affairs, the Government Office, the Government's Religious Affairs Committee, the Ethnic Minority Committee, and some social, political and occupational organizations