The country's religious freedom policy has increasingly expanded and given Catholic followers the opportunity to contribute more to the country, priest Phan Khac Tu, deputy chairman and general secretary of the Vietnam Committee for Catholic Solidarity, said in an interview with Sai Gon Giai Phong.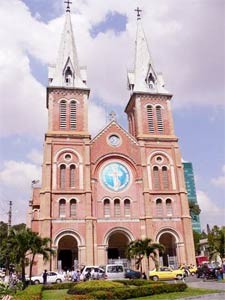 Notre Dame Cathedral in HCM City. Father Phan Khac Tu, deputy chairman and general secretary of the Vietnam Committee for Catholic Solidarity, said religious freedom in Vietnam has increasingly expanded. (Photo: saigon24h)
On the sidelines of a Committee conference in Hanoi on January 13, Father Tu said religious practices in Vietnam have increasingly enjoyed respect and Catholics have been given convenient conditions to conduct their religious activities.
"The event that most impressed us was the visit to the Vatican by Prime Minister Nguyen Tan Dung in 2007, where he and Pope Benedict XVI discussed the establishment of full diplomatic relation between Vietnam and the Vatican," Father Tu said.
"In late 2009, President Nguyen Minh Triet and the Pope also met at the Vatican, where the President said he agreed with the Pope's instruction to Vietnamese Archbishops that 'a Catholic must be both a good parishioner and a good citizen'. The Pope also encouraged all Catholics to devote themselves to their compatriots and nations," he said.
"I believe that when the Pope said this, he realized that the right to religious freedom is respected in Vietnam," he added.
Regarding the opinion that some outside political forces have acted against Vietnam by taking unfair advantage of religion to sabotage national unity, Father Tu said the Government and social organizations should make the public aware of the Party and State's religious policies.
Anyone found committing wrongdoings in the name of religion must be strictly punished, he said.
When asked about the Committee's activities in 2010, Father Tu said it would celebrate the 50th anniversary of the Vietnam Bishop Council and the 30th anniversary of the Common Letter issued by the Council in 1980.
The Common Letter was an important landmark in Catholics' connection to the nation, Father Tu added.
The Committee would also organize a seminar and a national conference on the Common Letter to promote that connection and honor Catholics for making outstanding contributions to society, he said.