At the meeting with the Korean President, the Vietnamese leader strongly affirmed that the Government of Vietnam always respects and wishes to enhance the strategic partnership ties with South Korea for mutual benefits and peaceful cooperation.

President Moon Jae-in also stressed that the country is ready for supporting, collaborating and sharing experiences for Vietnam's development.

At the reception with Prime Minister Lee Nak-yeon, Minister Pham Binh Minh suggested the Prime Minister and the Government of Korea to have effective measures in strengthening trade balance, striving to raise the two nations' trade volume up to US$ 100 billion in 2020, encouraging Korean enterprises and investors in infrastructure development, joining restructure of state-owned enterprises and commercial banks of Vietnam, and supporting Vietnamese community in the country.

South Korea's Prime Minister Lee Nak-yeon said he pleasured multifaceted development of the countries' trade investment and tourism relationships.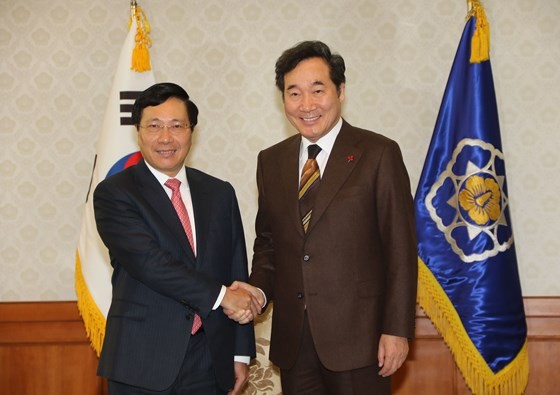 Minister of Foreign Affairs of Vietnam Mr. Pham Binh Minh (L) and South Korea's Prime Minister Lee Nak-yeon (Photo:VGP)

Foreign Affairs ministers of Vietnam and Korea agreed to effectively carry out current mechanisms, including strategic dialogue about diplomacy, security and defense; to raise the bilateral trade turnover; to effectively adopt framework agreement on Economic Development Cooperation Fund (EDCF) with a cost of US$ 1.5 billion and credit grogram of US$ 12 billion within the nations' financial cooperation; to continue cooperation in culture, education, health and people exchange…
The two leaders co-signed a memorandum of understanding (MoU) about cooperation between the Ministry of Foreign Affairs of Vietnam and South Korea.