Promoting the traditional friendship and cooperation between their two countries topped the agenda at a meeting between the Russian parliamentary speaker and his visiting Vietnamese counterpart in Moscow on April 23.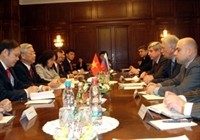 Chairman National Assembly Nguyen Phu Trong ( second, L ) talks with State Duma Speaker Brois Gryzlov in Moscow on April 23.
State Duma Speaker Brois Gryzlov told National Assembly Chairman Nguyen Phu Trong that the Russian House attaches priority to agreements reached between two countries.
The two sides constantly exchange visits to share their experiences, he said.
Russia would continue to welcome Vietnamese students and provide them more scholarships in future, Mr. Gryzlov promised.
Mr. Trong agreed the two countries should strengthen their strategic partnership and their legislatures should expand ties.
He hoped Russia would share its experiences in mitigating the impacts of the global recession and ensure social welfare.
He later met the Chairman of the Federation Council Sergey Mironov and the two sides agreed to support each other at regional and international forums.
Mr. Mironov said he was pleased to see the growth in Vietnam-Russia friendship and cooperation, especially the ties between the two legislative bodies.
Russia and Vietnam are cooperating in fields like high technology, he added.
Mr. Trong said Vietnam and Russia are building a strategic partnership based on their close traditional relationship.
The two leaders signed an agreement on cooperation between the Vietnamese National Assembly and the Russian Federation Council.
Later that day Mr. Trong met the chairman of the Russian Communist Party, Gennady Zuganov.
Mr. Zuganov said Vietnam has managed to ward off the worst impacts of the global
He called for developing a strategic partnership between the two.
Mr. Trong, his wife, and the high-level delegation accompanying them visited the Tomb of the Unknown Soldier and Lenin's Mausoleum and laid wreaths, besides visiting other historical monuments in the Russian capital.
Mr Trong began his visit to Russia on April 22 at the invitation of Mr. Mironov.