Vietnam and Russia need to work closely to implement agreements signed by leaders, focusing on boosting bilateral cooperation in economics trade, investment, culture, education-training and science-technology, said Prime Minister Nguyen Tan Dung.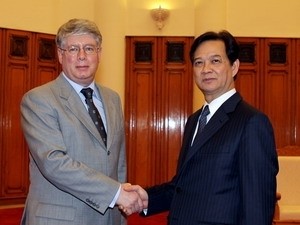 PM Dung receives Russian Deputy Foreign Minister A. Borodavkin (Photo: Nguyen Dan/VNA)
PM Dung asked both sides to make good preparations for the Vietnam visit by Russian Prime Minister V. Putin in July while receiving Russian Deputy Foreign Minister A. Borodavkin in Hanoi on April 25.
The PM highly valued the outcomes of the regular political consultation at deputy foreign ministerial level between the two foreign ministries in Hanoi , saying that the results showed confidence and cooperation between the two ministries and made contributions to the Vietnam-Russia strategic partnership.
He affirmed Vietnam's readiness to accelerate the warming-up of negotiations on a free trade agreement (FTA) between Vietnam and member countries of the Russia-Belarus-Kazakhstan Customs Alliance, which is expected to facilitate trade, investment and targets to raise two-way trade to US$3 billion  by 2012 and US$10 billion  by 2020.
PM Dung said Vietnam is also ready to cooperate with Russia in aviation and space technology for peaceful purposes, as well as organising the APEC 2012 Summit .
Deputy FM Borodavkin informed PM Dung that during the consultation meeting, the two sides discussed orientations and measures to enhance bilateral cooperation and ease difficulties to accelerate the implementation of strategic cooperation projects, especially the project on construction of the first nuclear-power plant in Vietnam .
Both sides supported the continued expansion of cooperation on energy and implementing the two countries' leaders guidelines that the head of the Vietnam-Russia intergovernmental committee on economic trade and scientific-technological cooperation will be a permanent deputy prime minister/first deputy prime minister, he told PM Dung.
During Deputy Foreign Minister Borodavkin's visit to Vietnam from April 24-26, the Russian Deputy FM and his Vietnamese counterpart, Bui Thanh Son conducted a political consultation.
The regular political consultation at deputy foreign ministerial level was to review situations and discuss measures to strengthen the traditional friendship and promote cooperation between the two countries in the context of the two nations celebrating the 10 th anniversary of their strategic partnership.
Both sides agreed that the Vietnam-Russia strategic partnership is developing in a strong and comprehensive manner.
The two deputy FMs highly valued the close cooperation between Vietnam and Russia at the United Nations, Asia-Pacific Economic Cooperation (APEC) forum and the ASEAN Regional Forum (ARF).
Vietnam asked for Russia's support in its bid for membership of the UN Human Rights Council for the 2013-2016 term and as a non-permanent member of the UN Security Council for the 2020-2021 term and the Russians acknowledged Vietnam's proposal.