RIYADH (Vietnam News) -- Saudi Arabia attaches importance to developing ties with Viet Nam as a priority in the kingdom's 'Look East' policy towards Southeast Asia, said Saudi Arabia's King Abdullah Bin Abdul Aziz Al Saud in talks on Saturday with visiting Vietnamese President Nguyen Minh Triet.
Triet is on a state visit to the Middle East country.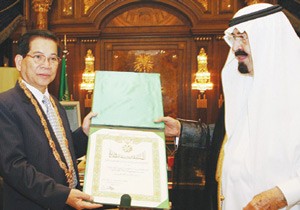 Saudi Arabia's King Abdullah presents the Abdul Aziz Order to President Nguyen Minh Triet during his three-day visit to Saudi Arabia. Photo: Vietnam News Agency
Abdullah congratulated the Vietnamese State and people for their recent achievements during the global recession in upholding Viet Nam as an attractive economy with dynamic development in the Asia-Pacific region.
After holding a red-carpet welcome and a banquet in honour of his Vietnamese guests at the royal palace in the capital city of Riyadh on Saturday, the King stressed that the visit was of historic significance for the bilateral relationship.
Triet thanked the King for his hospitality and informed him of Viet Nam's socio-economic developments. He spoke highly of the King's relief aid to flood victims in central Viet Nam last year.
"Viet Nam has always placed importance on developing ties with Saudi Arabia, considering the nation one of its prioritised Middle East partner," Triet said.
The two leaders spent time discussing measures to enhance co-operative ties, particularly in investment, finance, oil and gas, agriculture, trade and labour export, and to increase exchanges on international and regional issues of mutual concern.
They agreed to boost the exchange of visits at various levels and to quickly establish a framework for a strategic partnership in energy and food security.
The two heads of state witnessed the signing of bilateral agreements on double taxation avoidance and prevention of income tax evasion, as well as co-operation in agriculture, livestock and fisheries and a bilateral protocol on co-operation in oil and gas exploitation and mining.
They acclaimed the documents, saying they constituted an important legal foundation for commercial and investment co-operation and development for both countries. Abdullah also presented the Abdul Aziz Order to Triet, saying the presentation of the noble order to his guest was a manifestation of the friendship between the two nations. Abdullah also accepted an invitation to pay a state visit to Viet Nam, to be arranged later through diplomatic channels.
Earlier, at a Vietnam-Saudi Arabia Business Forum in Riyadh, President Nguyen Minh Triet promised to create favourable conditions for entrepreneurs from Viet Nam and Saudi Arabia to expand co-operation and step up trade and investment ties.
Saudi Arabia boasts a strong economy and an important position in the world, he said, adding that Viet Nam wishes to boost bilateral co-operation, especially in oil and gas, agriculture, infrastructure, finance and transport.
The State leader noted that economic, trade and investment relations have seen progress but remain modest compared with the potentials of both nations. President Triet said that seeking out opportunities to increase investments and promote economic and trade co-operation with Saudi Arabia was one of his visit's main targets.
Viet Nam and Saudi Arabia have signed a framework agreement on economic, trade, investment and technological co-operation, laying the legal foundation for expanding the flow of goods and investments between the two nations.
Despite the adverse impacts of the global economic-financial crisis, two-way trade exceeded US$460 million in 2009. Viet Nam mainly exports garments, seafood, computers, electronic components, wooden furniture and iron and steel, while importing petroleum products, chemicals and liquefied gas from Saudi Arabia.
In terms of investment, two giant groups from Saudi Arabia are carrying out steel, real estate and hotel projects in Viet Nam.
Viet Nam and Saudi Arabia have recently fostered labour co-operation, under which around 7,000 Vietnamese workers have been sent to the Gulf country.
At the forum, President Triet witnessed the signing of a co-operation compact between the Vietnam Chamber of Commerce and Industry (VCCI) and the Saudi Council of Chambers of Commerce.
On the same day, President Triet received President of the Saudi Arabian Basic Industries Corporation Prince Saud Bin Thuyan Al-Saud, President of the International Agriculture and Food Investments Corporation Osama Kurdi and President of the Zamil Group Abdul Rahman Al-Zamil.
Leaders of the Saudi Arabian firms expressed their wishes to invest in Viet Nam and praised the country's open and attractive investment environment while describing it as an important and strategic market.
President Triet's visit is the first made by a Vietnamese head of state to Saudi Arabia since the two nations established diplomatic ties on October 21, 1999.
As a guest of King Abdullah Bin Abdul Aziz Al Saud, President Triet was greeted at the King Khalet Airport by Minister for Foreign Affairs Prince Saud Al-Faisal, Minister of Petroleum and Natural Resources Ali Al-Naimi and other senior officials of Saudi Arabia.