Vietnam would like the Asian Development Bank to provide more advice in drafting its financial and credit policies, Prime Minister Nguyen Tan Dung told ADB President Haruhiko Kuroda at a meeting in Hanoi on September 28.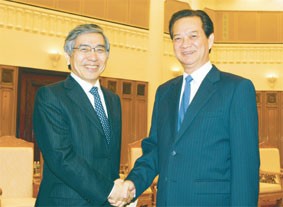 Vietnamese Prime Minister Nguyen Tan Dung (R) shakes hands with ADB President Haruhiko Kuroda in the meeting in Hanoi on Sep. 28, 2009. (Photo: VNA)
Vietnam appreciated ADB's cooperation and considered it a good example of effective bilateral relations which is beneficial for both sides, he said
The PM hoped the bank would fund Vietnam's efforts to develop infrastructure, improve its environment, and deal with climate change and rise in sea levels.