Vietnamese Prime Minister Nguyen Tan Dung has called on the World Bank to continue cooperating with and assisting Vietnam by sharing experience and funding projects to fulfill development targets.
The PM made the request at a reception in Hanoi on Dec. 2 for World Bank Managing Director Sri Mulyani Indrawati, who is on a working visit to Vietnam.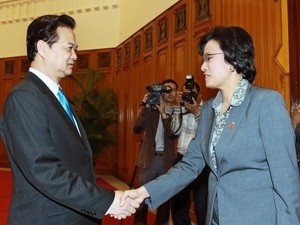 Vietnamese Prime Minister Nguyen Tan Dung (L) receives Sri Mulyani Indrawati (Photo: Vietnam News Agency)
In the context of global crisis and recession, and with the effective assistance of the international community, including the WB, Vietnam has achieved positive results in socio-economic development, controlling inflation and stabilizing the macro-economy, while ensuring social welfare and health care for the people, he said.
The PM said Vietnam would continue to give priority to curbing inflation, stabilizing the macro-economy, ensuring social welfare, maintaining a rational growth rate, and combining economic growth with social equality and progress.
Sri Mulyani Indrawati said Vietnam is among a few developing nations that have recorded important achievements in controlling inflation, stabilizing the macro-economy and ensuring social welfare.
She said the Vietnamese Government's socio-economic targets set for 2012 including a single-digit inflation rate and GDP growth equaling that of 2011 are important factors that will help the country develop in a sustainable way.
However, the WB official said, Vietnam, like other ASEAN countries, depends largely on exports, so the nation will be more vulnerable to global economic changes.
She said flexible financial and monetary policies and economic restructuring are important factors for Vietnam to maintain stability of the economy in 2012.
WB will assist Vietnam in policy consultation and funding to accomplish its development targets, she said.
The same day, Party General Secretary Nguyen Phu Trong received WB Managing Director Sri Mulyani Indrawati, saying Vietnam wants to receive WB's effective assistance in financial resources, policy consultation and management experience.
Sri Mulyani Indrawati pledged that WB would continue providing information and sharing experience of other countries worldwide in order to help Vietnam avoid difficulties these countries are facing.
WB is willing to provide financial and technical assistance to help Vietnam stabilise its macro-economy and successfully implement its economic reform programmes.