Visiting Vietnamese Prime Minister Nguyen Tan Dung discussed with his Uzbekistani counterpart Shavkat Mirziyoyev a wide range of measures to boost the multifaceted cooperation between the two countries, focusing on economic trade and investment ties at their talks in Tashkent on October 3.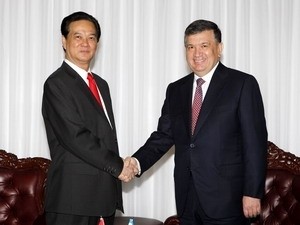 Uzbekistani Prime Minister Shavkat Mirziyoyev meets with Vietnamese Prime Minister Nguyen Tan Dung in Tashkent October 3, 2011 (Photo: Vietnam News Agency)
PM Dung, who is on an official visit to Uzbekistan from Oct. 2, affirmed Vietnam's consistent policy of attaching great importance to developing relations with traditional friends, including Uzbekistan.
Prime Minister Shavkat Mirziyoyev spoke highly of Vietnam's renewal achievements as well as its great successes recorded in the national socio-economic development process.
He congratulated Dung on his re-election as Vietnamese PM.
PM Dung said he was delighted at Uzbekistani achievements in maintaining socio-political stability, economic development, improving people's life and raising Uzbekistan's position in Asia and on the international arena.
The two leaders affirmed the desire to further consolidate and develop the time-honored friendship and mutually beneficial cooperation between Vietnam and Uzbekistan. They agreed to increase the exchange of delegations at all levels, especially high-ranking, to create a momentum for development of bilateral relations.
They noted bilateral trade remains modest with 18 million USD in 2010 and 15.5 million USD in this year's first half and has not yet reached its potential.
The two leaders agreed to foster export-import, step up trade promotion activities, and create conditions for Vietnamese and Uzbekistani businesses to set up partnerships and beef up cooperation in the fields of oil and gas, agriculture, fertilizer production, construction materials, electronics, information technology and telecommunications.
In addition, the two countries will also expand bilateral cooperation in culture, sports, education, training and tourism.
The two leaders agreed to finalize a legal framework for bilateral cooperation.
Both prime ministers spoke highly of the effective oil and gas exploration and exploitation of Vietnam National Oil and Gas Group (PetroVietnam) in Uzbekistan, stressing that oil and gas is a spearhead cooperative area between the two nations.
PM Dung proposed Uzbekistan soon finalize procedures for the signing of a contract between PetroVietnam and the Uzbekistani Oil and Gas National Holding Company in Bukhara Khiva, Uzbekistan.
The Vietnamese Government is ready to facilitate the Uzbekistani Oil and Gas National Holding Company's involvement in oil and gas exploration and exploitation projects on Vietnam's continental shelf, said PM Dung.
For his part, PM Shavkat Mirziyoyev affirmed that the Uzbekistani Government always supports and creates favourable conditions for oil and gas projects with Vietnam, which, he said, is an important cooperative field.
The two PMs assigned leaders of ministries and branches to meet and implement specific cooperative measures.
PM Dung thanked his Uzbekistani counterpart for his warm welcome and invited PM Shavkat Mirziyoyev to visit Vietnam at a convenient time and the latter accepted the invitation with pleasure.
Following the talks, PM Nguyen Tan Dung and PM Shavkat Mirziyoyev witnessed the signing of a cooperative agreement between the two governments on plant quarantine and a cooperative agreement between Hanoi National University and Tashkent National University.