Deputy Prime Minister and Minister of Foreign Affairs Pham Gia Khiem said on August 7 that Vietnam plans to engage in proactive and responsible cooperation within ASEAN in to boost the strength and solidarity of the bloc.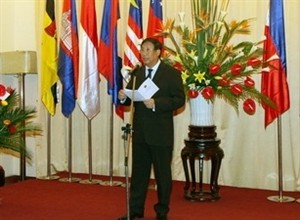 Deputy PM Pham Gia Khiem delivers his speech at the reception (Photo: VNA)
The remarks were made during Khiem's reception the same day for ASEAN ambassadors, charges d'affaires and chiefs of diplomatic missions in celebration of the 42nd founding anniversary of ASEAN, Agust 8, 1967.
Speaking at the meeting, Deputy PM Khiem said ASEAN is a critical part of Vietnam 's diplomacy. Since joining the association in July 1995, Vietnam has actively engaged in ASEAN's efforts and made several significant contributions to boosting the growth of, and the solidarity within, the organisation, Khiem said.
He added that Vietnam 's assumption of the rotating ASEAN presidency in early 2010 is a great honour and at the same time a heavy responsibility for the country.
Vietnam is determined to contribute to the development of ASEAN and hopes to receive assistance from the remaining ASEAN member states and partner countries during its presidency.
The Deputy PM said he rates highly the prominent achievements that the Association of Southeast Asian Nations (ASEAN) have made in the last 42 years.
ASEAN has become a comprehensive cooperation organisation for countries in the region and a dynamic and well-connected economic and political entity whose role and status in the region and the world have become more important.
He said the results from the 42 nd ASEAN Foreign Ministers' Meeting and meetings between ASEAN members and partner countries in Thailand this July have clearly shown the bloc is ushering in a new phase of development. On behalf of the foreign diplomatic mission in Vietnam , Philippine Ambassador Laura Q. Del Rosario said in her speech that she highly esteems Vietnam 's active contribution to the engagement process within ASEAN. She said the Philippines is delighted to support Vietnam as ASEAN president in 2010.