Prime Minister Nguyen Tan Dung has affirmed Vietnam's resolve to strengthen and expand its multifaceted cooperation with Argentina, especially in economy, trade, investment, energy, oil and gas, science, technology and culture.
PM Dung made the affirmation during his talks with Argentine President Cristina Fernandez de Kirchner, following an official welcome ceremony for him in the capital city of Buenos Aires on April 16 (local time).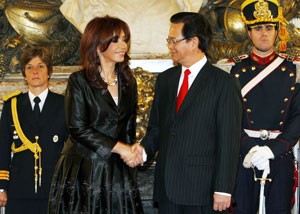 Argentine President Cristina Fernandez de Kirchner (L) greets Vietnamese PM Nguyen Tan Dung in Buenos Aires (Photo: Vietnam News Agency)
The PM congratulated Argentina on the great and impressive achievements it has recorded in socio-economic development, thereby gradually lifting the country out of difficulties resulting from the global economic-financial crisis, and improving its position and prestige regionally and internationally.
President Kirchner emphasized the importance of PM Dung's ongoing visit, saying it will contribute greatly to intensifying and developing the existing friendship and cooperation between the governments and people of Vietnam and Argentina.
The two leaders informed each other of the situation, development strategies and targets in their respective countries, and discussed a range of measures to further elevate friendly and cooperative relations between the two nations.
They agreed that Vietnam and Argentina have seen positive developments in the bilateral relationship, citing the resumption of their inter-governmental cooperation committee in 2009, growth rates of 30-50 percent in two-way trade and progress in culture, science, technology, education and training.
However, the two leaders said the results have yet to match with potentials and desires of both countries, and therefore suggested that Vietnam and Argentina should increase the exchange of visits and meetings by their senior leaders on the sidelines of international conferences.
Both host and guest emphasized the need to maintain regular operations of the inter-governmental committee to examine, accelerate and suggest new areas and forms of cooperation in accordance with strengths and demands of the two nations.
Vietnam and Argentina should urge their concerned ministries and agencies to effectively implement already signed cooperation agreements and conduct negotiations for the signing of new compacts and deals in a move to improve the legal framework for bilateral cooperation, the leaders said.
PM Dung and President Kirchner agreed to encourage and create favorable conditions for Vietnamese and Argentine enterprises to establish partnership and do business in each other's markets.
They voiced support for the expansion of bilateral cooperation in national defense, security, education and training, as well as relations between the parliaments, political-social organizations and localities of the two countries.
The two sides were unanimous that Vietnam and Argentina need to increase cultural and sports exchanges to celebrate major events this year, including Argentina 's 200th National Day, Vietnam 's 65th National Day and the 1,000th founding anniversary of Thang Long-Hanoi.
President Kirchner told PM Dung that the Argentine government recognized Vietnam 's market economy status, in line with its commitments to the World Trade Organization (WTO).
PM Dung applauded the Argentine government's decision, stressing that it will help beef up economic, trade and investment ties between Vietnam and Argentina .
On this occasion, PM Dung conveyed State President Nguyen Minh Triet's invitation to President Kirchner to visit Vietnam . President Kirchner accepted the invitation with pleasure and urged the two nations to map out an agreement regarding Argentina 's assistance to Vietnam 's football development so that it could be signed during her visit, scheduled for November this year.
Following their talks, PM Dung and President Kirchner signed a Vietnam-Argentina joint statement, witnessed the singing of documents between the two nations, including a government-level agreement on energy cooperation, and a memorandum of understanding on economic-trade negotiations between the two Foreign Ministries.
Other inked compacts include a cultural cooperation program for the 2010-2012 between the two Ministries of Culture, and three letters of intend on cooperation in wind and hydro-electric power production and equipment between the Vietnam National Oil and Gas Group and the IMPSA metallurgy group of Argentina .
Also on April 16, PM Dung had a meeting with President of the Argentine Senate Julio Cesar Cobos, during which he called on the Senate and its President to create favorable legal conditions to foster comprehensive cooperation between Vietnam and Argentina .
The government leader affirmed his support for the two parliaments' efforts to promote cooperative ties, share experiences in law making and enforcement as well as building law-governed States, coordinate and back each other at international parliamentary forums of which both of them are members, which helps lay a firm legal foundation for sustainable and long-term development of the Vietnam-Argentina relationship.
Cobos said the Argentine parliament will soon approve agreements Vietnam and Argentina have freshly signed and support the Vietnamese community's integration into the Argentine society.
The same day, PM Dung attended a ground-breaking ceremony for the construction of a statue of late President Ho Chi Minh at the Vietnam Park in Buenos Aires .
He stated the construction of the statue reflects solidarity and friendship of the government and people of Argentina in general, and the capital city of Buenos Aires in particular, with the Vietnamese people and President Ho Chi Minh.
The PM expressed his belief that the work will contribute to strengthening and developing the friendship and multifaceted cooperation between Vietnam and Argentina , as well as between the capital cities of Hanoi and Buenos Aires .
Talking with the embassy staff and the Vietnamese community in Argentina , PM Dung asked the embassy staff to accomplish all assigned tasks, thus helping to elevate Vietnam 's position and boost its economic, trade and investment relations with Argentina .
The leader recommended overseas Vietnamese in Argentina to unite and assist each other in study and work, and join hands to nurture the Vietnam-Argentina friendship.