Vietnam was a good example of how food security had been secured in a developing country, said delegates at a discussion as part of the ongoing 41 st annual meeting of the World Economic Forum in Davos, Switzerland on January 28.
The discussion, titled "promoting public-private coordination in a new vision for agriculture", was attended by UN Secretary-General Ban Ki-moon, Tanzanian President Jakaya Kikwete, former UN Secretary-General Kofi Annan and agricultural ministers from many countries.
Speaking at the discussion, Deputy Prime Minister Nguyen Thien Nhan told the delegates about Vietnam's human resource and infrastructure development policies for the agricultural sector.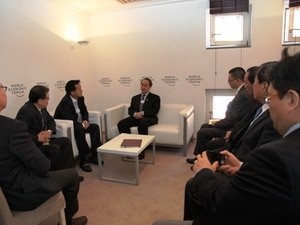 Vietnamese Deputy Prime Minister Nguyen Thien Nhan (middle) at the World Economic Forum in Davos on Jan. 28, 2011 (Photo: Vietnam News Agency)
Minister of Agriculture and Rural Development Cao Duc Phat briefed about the agricultural renewal process in Vietnam over the past 25 years and emphasised new challenges the country is facing.
He also introduced Vietnam 's initiatives in pubic-private cooperation which have been actively implemented in the last six months.
The minister stressed that the State's reasonable policy system is the most important factor encouraging farmers, businesses and every economic sector to actively involve in agricultural production.
This is the key to investment attraction and the application of science and technology, he added.
On the same day, Deputy PM Nhan met with Managing Director of the Hanwha Group Kim Dong Kwan and Tesco Group CEO Terry Leahy and attended several discussions with world economic leaders.