Vietnamese and Singaporean armies will boost cooperation in navy and share experience in anti-terrorism, humanitarian aid and peacekeeping activities.
This was agreed by the Chief of the General Staff of the Vietnam People's Army, Lieut. Gen. Do Ba Ty and the Chief of Singapore's Defence Force, Lieut. Gen. Neo Kian Hong, during their talks in Hanoi on April 18.
The two armies will also further their cooperation in English language training, information technology, electronics, telecommunications, and army medicines along with enhancing coordination at multilateral forums and exchanges of visits.
These activities aim to strengthen solidarity and mutual understanding between the two peoples and armed forces, for the sake of peace and friendly cooperation in the Southeast Asian region and the world, the senior officers said.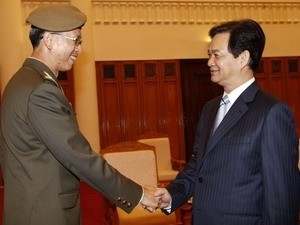 Prime Minister Nguyen Tan Dung (R) greets Neo Kian Hong (Source: Vietnam News Agency)
The same day, the Singaporean officer paid courtesy visits to Prime Minister Nguyen Tan Dung and Defence Minister General Phung Quang Thanh.