Vietnam and Sri Lanka have agreed to promote cooperation in the judicial field, including the exchanges of research, training and professional activities.
The consensus was reached at the talks between Deputy Prime Minister Nguyen Xuan Phuc and Sri Lankan Justice Minister Rauf Hakeen in the capital city of Colombo on Oct. 14, as part of President Truong Tan Sang's State-level visit to Sri Lanka.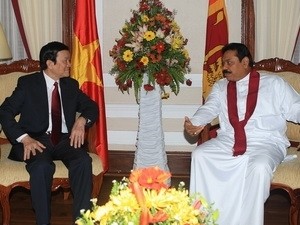 Sri Lankan President Mahinda Rajapaksa (R) holds talks with visiting Vietnamese President Truong Tan Sang in Colombo on October 14, 2011 (Photo: Vietnam News Agency)
Hakeen said that Sri Lanka now undertakes its role as chair of the Asia-Pacific Legislative Council, an influential organisation in the judicial field to member countries.
He added that the 1982 United Nations Convention on the Law of the Sea (UNCLOS) proposed by Sri Lanka since 1970 has achieved successes with many regional countries complying.
In order to effectively carry out judicial activities, Hakeen stressed that regional countries should comply with international laws, including the 1982 UNCLOS.
Deputy PM Phuc said that Vietnam is willing to share experience with Sri Lanka in the socio-economic development in general and in the judicial field in particular, adding that it is a symbol of determination in promoting existing potential of cooperation between the two countries.
Phuc underlined that as chair of the Asia-Pacific Legislative Council, Sri Lankan judicial sector needs to promote its role and position, along with regional countries to comply with the 1982 UNCLOS to contribute to ensuring maritime security and safety as well as peace and stability in the region and the world.