Vietnamese and Sri Lankan top leaders have agreed to boost bilateral cooperation and tighten collaboration at regional and international forums.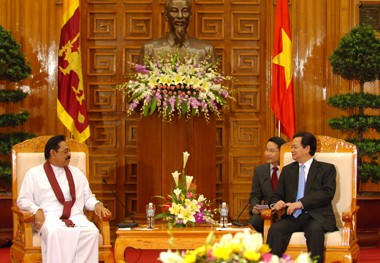 PM Nguyen Tan Dung meets with Sri Lankan President Mahinda Rajapaksa, Hà Nội, October 22, 2009. (Photo: VGP)
Talking with visiting Sri Lankan President Mahinda Rajapaksa in Hanoi on October 22, State President Nguyen Minh Triet said Vietnam wishes to consolidate and expand its traditional warm relations with Sri Lanka .
The Vietnamese State leader applauded the Sri Lankan President's first official visit to Vietnam, considering this a significant event that raises bilateral ties to a new height.
He congratulated Sri Lanka on its recent successes in the fight against terrorism and expressed his belief that the country will achieve even greater successes during its national reconstruction process.
For his part, the Sri Lankan President thanked the Vietnamese people for their support for his country's fight against terrorism and affirmed his wish to further strengthen ties with Vietnam as Sri Lanka is stepping into a new era of peace and stability.
The two leaders expressed their pleasure with the fine development of relations, especially in politics, economics, trade, investment, security and defence.
The two sides agreed to strengthen the exchange of delegations at all levels and speed up the effective performance of an ongoing Vietnam- Sri Lanka Joint Committee.
They also agreed to boost joint efforts on trade and investment in an effort to raise two-way trade to 100 million USD in 2012, as well as expanding reciprocal ties in other fields such as agriculture, fisheries, culture, oil and gas, mechanical engineering, aviation, sea transport, construction, education and health.
President Mahinda acclaimed Vietnam's decision to reopen its permanent representative office in Colombo in 2010 as a new opportunity to elevate collaboration between the two countries. Meanwhile, President Triet affirmed that Vietnam will support Sri Lanka in working with ASEAN.
The two leaders also exchanged views on regional and international issues of common concern.
After the talks, President Triet and his Sri Lankan counterpart witnessed the signing of cooperative documents between the two countries. They include an inter-governmental agreement on investment encouragement and protection, a memorandum of understanding on culture, a 2010-2011 cooperation plan on agricultural development, a plan on fisheries cooperation during 2010-2013 and a cooperative agreement on crime prevention.
On the same day, the Sri Lankan President was received by Party General Secretary Nong Duc Manh and met with Prime Minister Nguyen Tan Dung.
President Mahinda briefed the Vietnamese leaders on the results of his talks with State President Nguyen Minh Triet. He said that the two countries see great potential for strengthening cooperation and important documents signed during his visit would help facilitate bilateral ties in various fields in the coming time.
He said he wished to receive Vietnam's assistance in mine clearance and affirmed his support for accelerating bilateral cooperation in oil and gas, agriculture, science and technology.
General Secretary Nong Duc Manh affirmed Vietnam's consistent policy of backing the Sri Lankan government's efforts to stabilise the country, fight terrorism and restore security and social order.
He suggested that the two sides continue boosting cooperation in areas where they can complement each other's strengths as well as tightening collaboration at regional and international forums, striving for peace, stability and development in Asia and across the globe.
Meanwhile, PM Dung said that the two sides should continue discussions on the signing of cooperative agreements and affirmed that Vietnam is ready to cooperate with Sri Lanka in mine clearance, science and technology, education and culture.