Vietnam has always recognized the importance of boosting its friendship and cooperation with Japan and of moving towards a strategic partnership with the latter for increased peace and prosperity in Asia.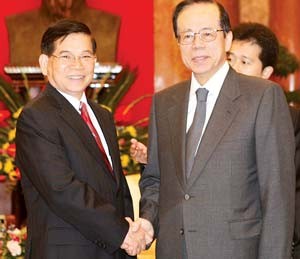 President Nguyen Minh Triet (L) greets Mr. Yasuo Fukuda in Hanoi on Dec. 15
President Nguyen Minh Triet made this affirmation while receiving the former Japanese Prime Minister Yasuo Fukuda in Hanoi on Dec. 15, who is in Vietnam to attend the Asian Forum of Parliamentarians on Population and Development.
President Triet spoke highly of the former Japanese PM's contributions to strengthening Vietnamese-Japanese ties, which have developed steadily over recent years.
The Vietnamese State and people appreciate the support of the Japanese Government and people throughout the former's processes of renewal, national development and international integration, the President said.
Expressing his pleasure at the development of relations between the two countries, former PM Fukuda said he hoped that the two countries would increase their exchanges to further boost mutual understanding.
The Vietnam-Japan Special Ambassador and Japan-Vietnam Goodwill Ambassador, Sugi Ryotaro is planning to organize fine art and craft fairs in both countries to promote the images of both Vietnam and Japan to their respective citizens, he added.
Fukuda also voiced his support for three Japanese-funded projects in Vietnam, involving the North-South highway and railroad and the Hoa Lac hi-tech park.
Regarding Japanese involvement in the collapse of Can Tho Bridge and an alleged corruption case relating to a Japanese company, Pacific Consultants International (PCI), President Triet stressed that the relevant agencies from both countries will work together to strictly and legally deal with the problems so that they will not affect the fine relationship currently enjoyed by the two nations.
The Vietnamese President said he believed that the two countries' joint efforts in bringing the PCI-related case to light will help strengthen bilateral friendship and cooperation in the future.
Sharing President Triet's view, Fukuda said that mutual trust is the foundation for the development of the two countries' relationship.
He said he hoped that the joint committee to prevent ODA-related bribery would soon take necessary measures to prevent similar cases and that Japan would then resume its provision of ODA to Vietnam.