The Prime Minister has tasked relevant ministries and agencies to strive for the shrimp export turnover target of US$10 billion by 2025, according to an announcement from the Government Office about the Prime Minister's conclusions after a recent shrimp industry development conference.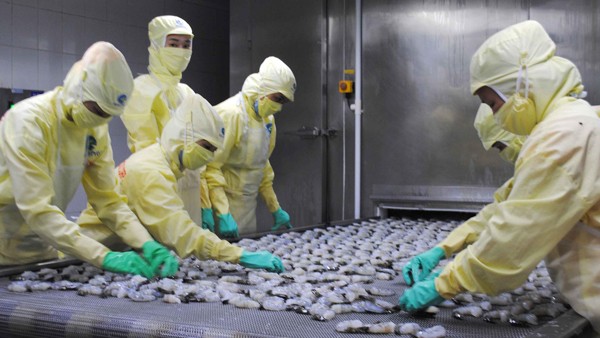 Workers process shrimp for exports at Minh Phu Seafood Group, Ca Mau provincea (Photo: SGGP)
According to the announcement, the shrimp industry has grown up together with the country's renovation cause overcoming many difficulties and challenges to become a key product and one of strengths of Vietnam's agriculture,.
 
The industry's determined target is to develop into a large and efficient industrial production sector with high competitiveness and sustainable development benefiting citizens, businesses and the economy, attempt to make Vietnam a shrimp production place of the world with the Mekong Delta being the metropolis of high quality shrimp farming and processing.
 
According to the General Department of Vietnam Customs, total cargo export turnover of Vietnam since early 2017 till middle February topped $20 billion, up 18.5 percent over the same period last year. Of these, ten major export products hit $14.6 billion accounting for 72.8 percent of the country's total export turnover.
 
Being in the lead was phones and components with the export turnover approximating $2.5 billion, up 15.4 percent. Garment and textile neared $2.7 billion, up 3.4 percent; computers, electronic items and components brought $2.3 billion, up 40 percent. Footwear products went up 6 percent to yield $1.5 billion while machines, equipment and other accessories increased 59 percent to $1.4 billion.
 
Export turnover by FDI firms topped $14 billion, raising 21 percent and accounting for 70 percent of the country's total.