The Party and State determine agricultural and rural industrialization and modernization is the top important mission in the development process of the country, affirmed Prime Minister Nguyen Xuan Phuc late afternoon on December 18.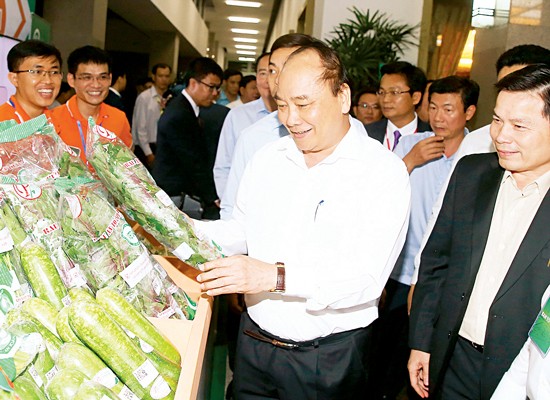 Prime Minister Nguyen Xuan Phuc visits a booth showcasing organic farming products at the conference on agricultural development in HCMC on December 18 (Photo: SGGP)
At a conference hosted in HCMC discussing agriculture development, he said that Vietnam desires to rise and gradually become one of agricultural powerful countries in the world. The country's agriculture must develop into a supply center of hi-tech farming products and play a significant role in global production and value chains. 
The conference was also attended by secretary of the HCMC Party Committee Dinh La Thang, Minister of Agriculture and Rural Development Nguyen Xuan Cuong and many central agency and ministry leaders together with over 500 businesses, scientists. 
Making a statement, PM Nguyen Xuan Phuc approximated the meaning of developing clean organic agriculture and hoped that the event would open a new chapter for the country's agriculture in the upcoming time. 
From that base, Vietnam will be able to boost other industries such as processing, food, machine manufacturing and develop Vietnamese well-known brand names. 
Many businesses from other fields such as mechanic industry, real estate and information technology expressed their wishes to join in agricultural field with large rice farming projects. 
They proposed the Prime Minister to untie agricultural land ceiling regulations and give them as well as farmers self-control rights so that they will have better farming conditions. 
Mr. Phuc tasked relevant ministries to synthesize reports on the matter and send them to the Government and other authorized authorities to remedy problems. 
Businesses suggested a large credit package like the housing package of VND30 trillion (US$1.32 billion) to assist organic farming production and loan payment extension policy for farmers in case of natural disasters, diseases and other risks. 
The credit package suggestion was necessary, said the PM. He instructed the State Bank of Vietnam to study a VND50-60 trillion credit package with an advantageous loaning mechanism. It should be participated by many commercial banks to suit market economy principles, limit negative signs and improve credit quality. 
In response to a proposal from the conference's organizer Hi-Tech Agriculture Club about establishment of a hi-tech agricultural complex, Mr. Phuc said that if the club had enough conditions to build and maintain the operation of the complex, the Government would advocate it and facilitate the idea's materialization. 
Not only areas under planning are permitted to invest in hi-tech farming but also all Vietnamese farmers cross the country are encouraged to do so, he pointed out. 
Still he said that hi-tech agriculture should not be practiced in movements. It needed be efficient and sustainable and considered as a development trend of the country, he noted. 
Talking to businesses at the conference, the PM said that at present, the number of agricultural businesses is still low, only 4,000 out of 600,000 enterprises in the country. 
Agricultural development needs businesses to join hands, he said, expecting the conference will contribute in furthering their attendance in the field. 
According to the PM, the performance quality of cooperatives should be improved and the operation model of 3.5 individual business households especially those in rural areas should be transferred into a better one to increase their competitiveness in the market economy. 
He also supported a proposal to build suitable technical barriers to prevent the rampant import of agricultural products causing market chaos.