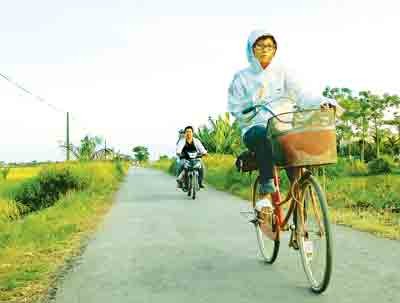 New roads in Hai Duong Commune made under the renovation plan (Photo: SGGP)
After two years since implementation of the renovation plan, the selected eleven communes of Hai Duong in district Hai Hau in the northern province of Nam Dinh, Thuy Huong in district Chuong My in Hanoi and Tan Thinh in district Lang Giang in the northern province of Bac Giang have a completely new look.
New tarmac roads
Despite being in a remote area of Hai Hau District and 150 km away from Hanoi, Hai Duong commune is just as modern as other parts of the district with clean tarmac roads. Nguyen Van Tuan, Chairman of Hai Duong People's Committee, said that the entire district had changed after citizens contributed money and labor to repairing roads, bringing in a renewed energy to the commune.
Approximately 20km away from Hanoi, Thuy Huong commune in Chuong My has built a new infrastructure based on a modern countryside, having orderly houses along shaded tarmac roads. Until now, the two communes are the first in Vietnam to complete the renovation plan. Some communes like Thanh Tan in district Kien Xuong, in the northern province of Thai Binh were also chosen by the Thai Binh People's Committee to follow in the steps of the above communes.
Modern villages, modern businesses
Nguyen Van Tuan pointed out the benefits of the renovation plan, the change of attitude in residents and in finding options for income other than depending on rice agriculture.
Some people have opened carpentry shops, fine arts shops, sewing workshops, lace embroidery workshops and carpet workshops. 39-year-old sewing workshop owner Nguyen Thi Hong shared her thoughts: "Formerly, we only worked in rice fields. Now, everybody is excited about doing business like me. People are happier and are earnest about earning money."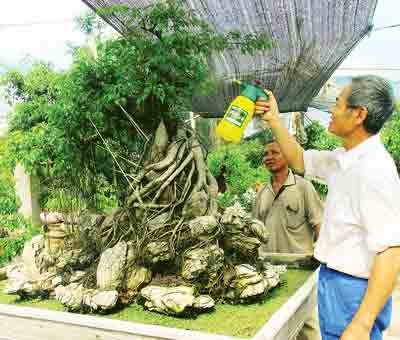 Some households switched to planting bonsai to increase their income (Photo: SGGP)
She also said that new and modern road ways had prompted some families to invest in new vehicles costing hundreds of million VND.
Hai Duong now has about 8 coaches for traveling to other provinces, mostly to Hanoi, one to Quang Ninh Province and one to Ho Chi Minh City daily, making it convenient for people to transfer commodities as well as agricultural products.
Farmers do not sit around idly anymore. Some grow bonsai for export. Some houses even switched completely from planting rice to bonsai such as areca, ficus and benjamin fig as well as raising fish breeding.
Tuan added that about two to three months ago, some people in the region even earned 2-3 billion VND (about USD150, 000) from selling bonsai.
The government also welcomed a company investing in a 23-billion VND sewing factory in the area, training hundreds of young people and creating job openings for more than 400. It seems such positive results were worth all the effort in implementing the plan.
According to Nguyen Van Tim, Chairman of the Hai Hau People's Committee, seeing the success of Hai Duong Commune, local governments have decided to expand the plan to other communes like Hai Minh, Hai Phuong, Hai Phu, Hai Chau, etc., helping them become more modern and prosperous.
The government has so far spent more than VND20 billion (nearly USD1,000,000) in implementing the renovation plan in Hai Duong commune to build 2 new kindergartens, a new elementary school, a new 2-floor medical station for the commune and repaired a junior high school. The People's Committee also called upon local people to contribute towards new roads and cultural houses. As a result, every night people gather eagerly in these places to exchange information as well as entertain themselves.

New roads in Hai Duong Commune made under the renovation plan

Construction of new roads in Hai Hau District

Farmers switch from growing rice to dragon fruit to improved income

Some households switched to planting bonsai to increase their income