Vietnam will strive to reach the goal of 50 percent exclusive breastfeeding rates across the country by 2015, the Ministry of Health said July 31 at a press conference to launch Vietnam Breastfeeding Week.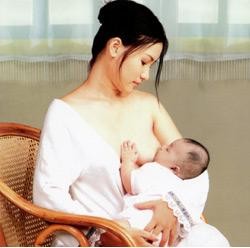 Vietnam launches  the campaign to increase the percentage of exclusive breastfeeding
The campaign is organized by the Ministry of Health, with UN technical and financial assistance (UNICEF and WHO) at both national and sub-national levels.
A wide range of activities will be carried out during the week under the two key themes of Exclusive Breastfeeding Promotion and Exclusive Breastfeeding Protection.
The week will be celebrated from August 1 to 7 under the theme "Exclusive Breastfeeding for the First Six Months of Life – The Smart Choice for Child Survival and Development," which calls for the need to protect, promote and support breastfeeding.
In the recently approved 'Child Survival Action Plan,' the ministry is committed to achieving the goal, recognizing that without improvements in breastfeeding rates and child nutrition, the realization of the Millennium Development Goals in Vietnam would be jeopardized.
Exclusive breastfeeding during the first six months of life yields tremendous health benefits, providing critical nutrients and protection from deadly diseases, such as pneumonia and diarrhea, and fostering child growth and development. Continued breastfeeding after six months, for up to two years of age or beyond, combined with safe and appropriate complementary feeding, is the optimal approach to child feeding.
"It is of the utmost importance that we ensure a supportive and protective environment for the mother and her newborn to ensure exclusive breastfeeding during the first six months of life," said Dr. Tran Chi Liem, deputy Minister of Health.
"We need to remain committed to protecting, promoting and supporting breastfeeding by helping mothers and their families understand the benefits of breastfeeding, as well as the risks of artificial feeding. This means government, civil organizations and international efforts must remain committed to enforcing the Government Decree on the Marketing of Breast Milk Substitutes, and invest much more in the public health system to promote breastfeeding," he added.
 "To reach the agreed goal by 2015, Vietnam needs to strengthen its enforcement of the Decree on the Marketing of Breast Milk Substitutes," said UNICEF Representative Jesper Morch.
The UN stands ready to support the Government in the coordination, implementation and monitoring of all related policies, in order to promote and protect the right to breastfeed children, he said.


The Decree on the Marketing of Breast Milk Substitutes aims to protect and promote breastfeeding by prohibiting the advertising and aggressive marketing of breast milk substitutes, feeding bottles and teats. 
A recent monitoring and supervising mission conducted by the Health Inspection Department found that the Decree contains a range of loopholes that are exploited by companies and agencies.  
Despite the progress made since the decree was adopted, challenges remain and monitoring of decree violations is weak in Vietnam.  
A report by the Ministry of Health identified an alarming percentage of violations in 2007 at both health facilities and businesses in 12 provinces.  
According to the report, 24 percent of health facilities still sell formula milk in their canteens, 32 percent of health facilities use bottles and artificial nipples for children and approximately 61 per cent of milk companies, businesses and their representative offices are not adhering to Government Decree 21 on providing appropriate information for consumers in the labels of their products.  
The marketing of infant formula and breastfeeding substitutes is not adequately monitored and false marketing, using a range of different channels, is very common in Vietnam. 
The estimated value of breast milk potentially produced by Vietnamese mothers is US$549 million per year, half of which is wasted due to the low rates of breastfeeding in the country.  
An increase in breastfeeding rates would reduce the need for diagnosis and treatment of childhood illnesses, and consequently lead to a fall in household health care expenditure. This reduction in health care costs would provide low-income families with the opportunity to invest in other basic needs.  
Such facts need to be considered by decision makers, as they explore expanding support for breastfeeding-friendly policies and programs.

The UN in Vietnam is working with partners, Government and communities to protect and promote breastfeeding and ensure the provision of increased support for breastfeeding mothers, including advocacy for better resources for breastfeeding promotion, and longer maternity leave to enable adequate breastfeeding among women working in both the private and public sector.  
A reassessment of baby friendly hospitals will also be supported, as well as capacity building of relevant staff to enable stronger implementation of the decree.