The United Nations Food and Agricultural Organization (FAO) considers Vietnam a success story in the fight against poverty, FAO Director General Jose Graziano da Silva said.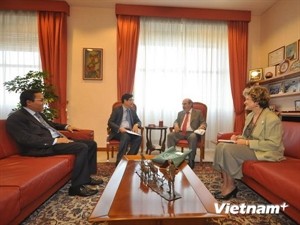 Minister Phat (2nd left) meets with FAO Director General Jose Graziano da Silva (2nd right) (Photo: VNA)
Vietnam is an example for developing countries to follow in the face of climate change and food insecurity, he said during a working session with the Vietnamese Minister of Agriculture and Rural Development Cao Duc Phat in Rome, Italy on October 8.
Jose Graziano da Silva urged Vietnam to share its experiences via the South-South cooperation framework, and pledged to help the country achieve the UN millennium development goals.
Minister Phat, in turn, briefed his host of Vietnam's progress in the fields of agriculture, forestry and fisheries, food security, poverty reduction and environmental sustainability, adding that Vietnam assisted developing nations in Asia, Latin America and Africa by sending out delegations of agricultural technicians and samples of plant varieties.
Mr. Phat expressed his appreciation for FAO considering Vietnam as a worthy partner, stating that more than 400 FAO-funded agricultural projects were currently being implemented throughout the country.
He said Vietnam hoped to continue to receive support from FAO for farming projects, with a focus on food security, nutritional improvement, climate change resilience and responses to epidemics and diseases.
The minister's working session was held on the sidelines of the eighth Asia-Europe Parliamentary Partnership Meeting that started in Rome on October 7, where Phat gave an overview of Vietnam's success in agriculture, poverty alleviation and food security.