Vietnam took over the Chairmanship of the Committee of Permanent Representatives (CPR) to the ASEAN from Thailand in a ceremony held at the ASEAN Secretariat on Wednesday. The term of the Chair of the CPR, in line with that of the ASEAN Chair, is for one year.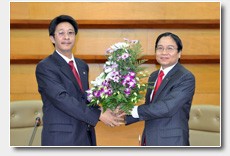 Thailand's Ambassador to the ASEAN Manasvi Srisodapol (L) congratulates his Vietnamese colleage Vu Dang Dung at the ceremony held at the ASEAN Secretariat on Jan. 6, 2010. (Photo: ASEAN Secretariat courtesy)

"I pledge to continue our close cooperation and coordination to carry out the work of the CPR in 2010," said Ambassador Vu Dang Dung, Vietnam's Permanent Representative to ASEAN, at the handing over ceremony.
The CPR, which was established in 2009 upon the entry into force of the ASEAN Charter, aims to support the work of the ASEAN Community Councils and the ASEAN Sectoral Ministerial Bodies. The CPR also liaises with the Secretary-General of ASEAN on ASEAN-related issues.
Witnessing the turning over of the Chairmanship, Dr Surin Pitsuwan, Secretary-General of ASEAN, who committed his full support to the work of the CPR said that "with the cooperation, intervention and mediation of the CPR, the results of our efforts in building the ASEAN Community will be met quicker."
Dr Surin, who visited Hanoi last month for discussing how the ASEAN Secretariat can support Vietnam's Chairmanship in 2010, praised Vietnam for the high level of preparedness that it had shown in assuming its Chairmanship.
Meanwhile, the outgoing CPR Chair, Ambassador Manasvi Srisodapol of Thailand also pledged to strongly support the new Chair.
"I am confident that Vietnam will be able to further build on our work, such as enhancing ASEAN's engagement with all stakeholders, including civil society, and supporting the initiative to develop ASEAN connectivity in all aspects," he said.