The Vietnamese and Thai Prime Ministers renewed their determination to further deepen the already warm relations between the two countries and effectively expand their wide-ranging cooperation in the coming time.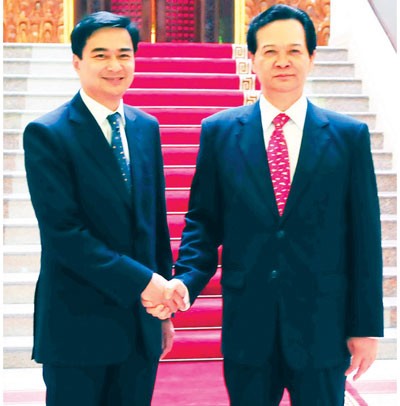 Vietnamese Prime Minister Nguyen Tan Dung (R) and Thai Prime Minister Abhisit Vejjajiva.
The two PMs Nguyen Tan Dung and Abhisit Vejjajiva also said they were satisfied with recent developments in bilateral ties during their talks in Hanoi on July 10, which were held following a welcoming ceremony for the visiting Thai PM the same day.
They agreed to broaden and further improve the efficiency of cooperation in the fields of economics, trade, investment, culture, education and training, healthcare, science and technology and tourism.
They vowed to encourage bilateral cooperation in agriculture, aquaculture, human resources development, and transport where both countries possess large untapped potentials.
The two government leaders reached a consensus on appraising existing cooperative mechanisms in order to better their operational effectiveness.
While agreeing to assign relevant ministries and sectors on both sides to study renewing the organisation of a joint cabinet meeting, the two PMs also gave the nod to soon holding a meeting of the Joint Sub-committee on trade cooperation.
They agreed to continue collaborating in security and defence, conducting joint sea patrols, and reinforcing cooperation in anti-terrorism activities and the fight against trans-national crimes.
They both reconfirmed the principle of not allowing any hostile force to use either country's territory to conduct acts that harm the other's security and undermine the two countries' friendship and cooperation.
At their talks, the two leaders discussed regional and international issues of mutual concern, affirming to continue to cooperate closely in ASEAN for the purpose of successfully building a strong ASEAN Community which plays a role in the region and the world as well.
They pledged to work harder to raise the effectiveness of cooperation programmes in the Sub-Mekong region, including cooperation with other countries in the Mekong basin in exploiting and protecting the river water resource to ensure the legitimate and long-term interests of countries both upstream and downstream, for the sake of the sub-region's sustainable development.
The Thai PM availed himself of this occasion to invite PM Dung to visit Thailand and the invitation was accepted with pleasure.
Later in the day, PM Dung hosted a banquet in honour of the visiting Thai guest and his entourage.