More and more agricultural produces imported into Vietnam due to increasing demand; however, consumers have fretted about the quality and safety of imported produces.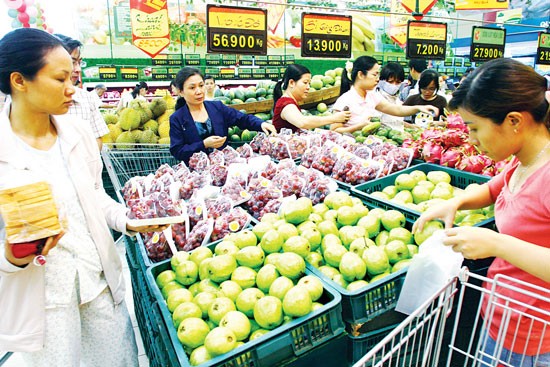 Much imported vegetables and fruits are sold in supermarkets in Vietnam. the country will tighten control over this produces (Photo: SGGP)
Nguyen Xuan Hong, director of the Plant Protection Department, had a talk with Sai Gon Giai Phong newspaper on testing procedures of agricultural produces.

According to the regulation set by the Ministry of Agriculture and Rural Development, importing countries must send the registration to the relevant agencies. Then agencies will check the process to plant vegetables and fruits, pesticides, and preservation.

Staffs of relevant agencies will take 10 percent of samples from produce batches in the border gates for testing. If samples meet the standard, it will be get customs clearance.
However, if samples are discovered to have pesticide residue exceeding the limitable level and violate food safety regulation, they will be kept in the border gates for further testing.
Then, commodity batches of violating importers will be tested thoroughly. Inspectors will take 30 percent of the batch for testing and the batch will be kept in ten days. During this time, if the batch meets the standard, it will go through customs check; however, if it does not meet the standard again, it will be exported back to the original country.

The most current challenging matter is that Vietnam is lacking personnel. The Ministry of Agriculture and Rural Development has approved to purchase more equipment worth totally VND33 billion (US$ 1,558,260) for check-stations nationwide.