Speaking at a press conference on the national resident database and the roadmap to scrap household register books and temporary residence permits, Mr. Ve said that household register management is human management. No countries in the world abolish that, they just apply different management forms.

Mr. Ve said that in Vietnam, resident management will be conducted through high-tech method which is more modern and efficient instead of manual form.
Lt. Gen Tran Van Ve said that resident management is now undertaken by lot of ministries and agencies with many types of papers and different codes comprising health insurance cards, household register books and temporary residence permits.
Citizen information has just served industry and field management targets so it has not been connected or shared among agencies. When doing administrative procedures, residents must present many types of papers causing inconveniences and waste.
To tackle the issue, the Prime Minister issued a decision to approve a project on administrative procedure and resident paper simplification and resident management database in the phase of 2013-2020 on June 8, 2013.
On November 20, 2014, the National Assembly issued Identity Card Law taking effect in 2016, prompting the Ministry of Public Security to build a national database on residents.
The database is a collection of basic information about all Vietnamese citizens; standardized, digitized, stored and managed with information infrastructure to serve state management and transactions of agencies, organizations and individuals.
The database plays a significant role in all aspects of social life, creating a unified resident database system. it will focus on serving state management, economic policymaking and ensuring social welfare. The system will be an important foundation to study and propose a roadmap to simplify administrative procedures and reduce travel costs for residents.
The system will regularly update information to intensify resident management and crime fighting operations as well as ensure security. Ministries and agencies will share resident information with each other to prevent overlapping and waste.
The database will gather 15 most basic information of citizens. Each person will be granted with a national identification number to replace all related papers.
At the meeting, Mr. Ve also rejected abolishment of identity card, saying it will be replaced with a new ID card.
New ID cards will be granted on January 1, 2020 nationwide. If people do not use the new cards, they will be able to use their old ones, added Mr. Ve.
ID card granting has been inconvenient, complex and susceptible to counterfeiting and overlapped. Therefore, the Government in 2016 approved a new ID granting project piloted in 16 provinces and cities. The project will be carried in the remaining of 47 provinces and cities from 2020.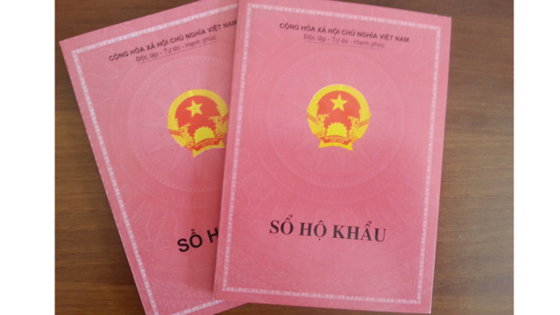 After completing online resident database, authorized agencies will abolish household register books (Photo: SGGP)
At present, the Ministry of Public Security is focusing on building the national resident database, which will be implemented nationwide on November 14.
Subsequently, the ministry will organize training for all level police agencies, deliver citizen declaration forms to each household. The ministry will then collect the forms and enter data into the system.
That will be original data so it must be accurate, he emphasized.
The Government has assigned the Ministry of Public Security to build the database system because the ministry has already had paper database and managed residents to each ward and commune. The database system will be shared and connected with other ministries and agencies.
The ministry has fully prepared human resources and machines to build the system. Still the most difficulty is collecting information from residents.
The Government has tasked the ministry to abolish household register books in 2-3 years. Therefore, the ministry's system building will be done by 2020.