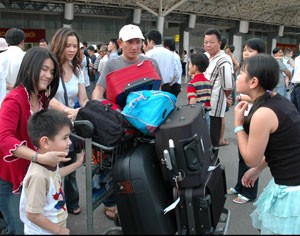 Return visits of overseas Vietnamese rose from 150,000 in 1993 to 500,000 last year. (Photo: Viet Dung/SGGP)
Vietnam will from September 1 allow its emigres to make visa-free return visits to the communist country, President Nguyen Minh Triet said in a Vietnamese state television report broadcast Tuesday.
The step -- announced by Mr.Triet in New York during a meeting Monday with Viet Kieu, or overseas Vietnamese -- highlights a warming of relations between Hanoi and the country's diaspora that have often been clouded by mutual suspicion.
"On this occasion I can inform you that overseas Vietnamese will be completely exempted from visas from September 1 this year when they return to their homeland," Mr.Triet said in the television report seen in Hanoi.
Vietnam's ministries of foreign affairs, justice and public security are now finalising a mechanism that would allow emigres to prove their Vietnamese heritage, an official in Hanoi said, speaking on condition of anonymity.
Some 2.7 million Vietnamese live in more than 100 countries around the world, including over one million in the United States.
Return visits rose from 150,000 in 1993 to 500,000 last year, according to the foreign ministry's Committee for Overseas Vietnamese, and the government also runs summer camps for second-generation Viet Kieu.
Earlier this year, at a Hanoi gala event for emigres, Mr.Triet pledged to soon allow visa exemption for Vietnamese-born people holding foreign passports, and said the government appreciated their contributions to their homeland.