Deputy Prime Minister and Foreign Minister Pham Binh Minh will lead a Vietnamese delegation to participate in important regional meetings to be held in Nay Pyi Taw, Myanmar, from August 5-10.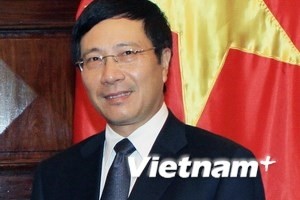 Deputy Prime Minister and Foreign Minister Pham Binh Minh. Photo: VNA
Along with the 47th ASEAN Foreign Ministers Meeting (AMM-47), the delegation will attend the ASEAN Post Ministerial Conference (PMC), the 15th ASEAN Plus Three Foreign Ministers' Meeting (APT-15), the fourth East Asia Summit Foreign Ministers' Meeting (EAS FMM-4), and the 21st ASEAN Regional Forum (ARF-21).
The ASEAN Senior Official Meeting (ASEAN SOM) will be held earlier to prepare for the meetings of the foreign ministers.
The meetings are the most important events in the year of the Association of Southeast Asian Nations and between ASEAN and its partners, attracting the participation of foreign ministers from 10 member countries of the grouping and 17 partners.
At the meetings, the foreign ministers will review the ASEAN cooperation as well as the relationship between the association and its partners over the past time, while discussing orientations to boost their partnership as well as regional and international issues of common concern, especially peace and security in the region.
The events are held in the context that the regional and international situation is changing remarkably, with ASEAN facing both traditional and non-traditional security challenges affecting peace, security and development of the region.
On this occasion, a number of ministerial meetings in the Mekong Cooperation framework will also be organised.
The Vietnamese delegation participating at the events with the aim of consolidating ASEAN solidarity and partnership, building a strong community of close connectivity, promoting ASEAN central role in maintaining an environment of peace, stability and cooperation in the region.
Vietnam also targets the expansion of its relations with partners, thus contributing to common goals and interest.-VNA