Fossil fuel energy as well as hydropower sources in Vietnam and in the world are being exhausted and nuclear power offers energy more effectively, safely and economically, while simultaneously combating greenhouse gases.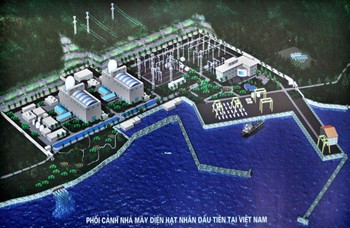 An artist's impression of the first nuclear power plant Ninh Thuan 1
Le Dinh Tien, Deputy Minister of Science and Technology said in a Friday online conference that there were four reasons for Vietnam to build nuclear power plants.
Dr Vuong Huu Tan, associate Professor and head of the Vietnam Atomic Energy Institute said that nuclear power would contribute to ensuring the energy security of the nation and provide power for development, industrialization and modernization.
However, he said there were several obstacles facing Vietnam to develop this kind of energy. Firstly, nuclear power is a rather new field for Vietnam, so there was a lack of human resource. Besides, there was a shortage of a legal framework which has yet to be built. Moreover Vietnam's financial ability is still limited while the demand to build nuclear power plants is very big.
According to Hoang Anh Tuan, deputy head of the Atomic Energy Department of the Ministry of Science and Technology, each nuclear power project requires about 500 hectares of land. For the Ninh Thuan 1 nuclear power plant, a total of 156 households with about 650 people would have to be relocated, while it would take 611 households with over 2,000 residents to be relocated to build the Ninh Thuan 2 plant.
Relevant authorities are working hard to resettle the displaced people and build the necessary infrastructure like roads etc. so that the project can make fast headway.
According to plan, Vietnam will break ground to construct its first nuclear power plant Ninh Thuan 1 in 2014. The plant's first machine unit is expected to generate power by 2020.