The Food Safety and Hygiene Administration announced on April 5 that it would check all dairy and milk products imported from China.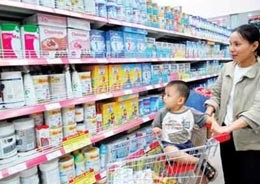 Vietnamese parents pay a large sum of money on milk for their children (Photo :SGGP)
This decision was because China has decided to shut down nearly 50% of its dairies that have failed to renew their licences. The administration has also asked China to provide a list of companies that have shut down production.
Nguyen Thanh Phong, deputy head of Food Safety and Hygiene Administration said that people should not be unduly anxious about imports from China, as all imported products have to pass a Product Safety and Quality Certificate.
As to products imported from Japan, the administration is continually asking Japanese import-export companies to ensure that all their food products were free from radioactive particles before dispatch to Vietnam.
Phong added that to maintain a quality check on foods affected by radioactivity, the administration had asked import-export companies of Japan to provide certificates to ensure they are radioactive free.