Vietnam will develop modern army to protect the country's sovereignty over the East Sea, the Minister of National Defense Phung Quang Thanh told press agencies on the sideline of the National Assembly session Wednesday.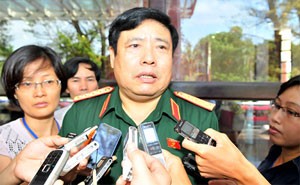 Vietnam's Minister of National Defense Phung Quang Thanh
Thanh said one of the important roles of Vietnam's army, especially the Navy, maritime police, and border soldiers, is to maintain sovereignty and security on the East Sea, and to protect the fishermen.
He said the forces also have to keep an eye on sea accidents on the waters to offer rescue forces in time, and set up friendly relationship with sea neighbors including China, Thailand, Malaysia, Indonesia, the Philippines and Brunei.
In order to construct modern army, Thanh said the country would need modern and quality human resources who have knowledge of modern weapons that are highly effective and good enough for the country's stability.
The minister also said that any army strategies are not to cause troubles to other countries.
"Any country with growing economy would have to do that, focusing on modernizing the army to raise the defense capability.
"We are going to by submarines, missiles, aircrafts and others, only to defense our country, to protect our peace and sovereignty," he sad.
"Vietnam has not intention to threaten the sovereignty of neighboring countries."
Vietnam until 2020 will be equipped with six modern submarines, Thanh said.
The international communities right now have mixed opinions over the East Sea conflict. Some people said the issue can be solved bilaterally, some going for multilateral solutions.
Thanh said he has clearly expressed his points of view during the recent ASEAN Naval Chief's Meeting in Hanoi. Conflicts between two sides can be solved bilaterally.
But the U-line announced by China has violated the sovereignty of Vietnam, Malaysia, Indonesia, the Philippines, and Brunei, so the matter has to be solved among all these countries, Thanh said.
Any discussion and action has to be public and transparent to receive the approval and respect of all countries involved, he said.
The minister said that the East Sea has a strategic geological location and is one of the busiest route for maritime trading in the world with between 150 and 200 big boats coming by every day.
He said the waters has generated economic profits to powerful countries far away, like the US, which has said it would stand neutral in the matter but has expressed attention about the sovereignty conflicts in the region.
Any country, small or big, have to respect the common rule that peace and stability have to be maintained in the region, Thanh said.