Vietnam will focus on off-shore fishing activities till 2020 to ensure sustainable development of the sea ecosystem and fisheries resources as well as provide a steady income for fishermen, said a representative from the General Fisheries Administration yesterday in Hanoi.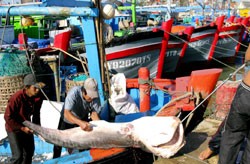 Offshore fishing in central Phu Yen Province
About VND17,500 billion (US$833 million) will be channeled into a new technology plan to develop off-shore fisheries resources exploitation activities.
By the year 2020, there are expected to be 25,000 vessels with a capacity of more than 90CV and 12,500 vessels with a capacity of less than 20CV.
Along with this there will be a database of off-shore fisheries resources that will also forecast available fishing grounds to fishermen, to raise their effectiveness in catching high-value fish such as codfish, tuna and cuttlefish which are in huge demand in European, Japanese and Chinese markets.
Sea resources have been depleting over the years, hence the need to ensure sustainable development of fisheries resources. In addition, raising fishermen's awareness of the depletion of fisheries resources is also necessary because they play an important role in protecting sea resources.