Vietnam will host the 13th ASEAN Ministerial Meeting on Environment (AMME-13) and related meetings from October 26-30, which are of significant importance as the formation of the ASEAN Community is nearing.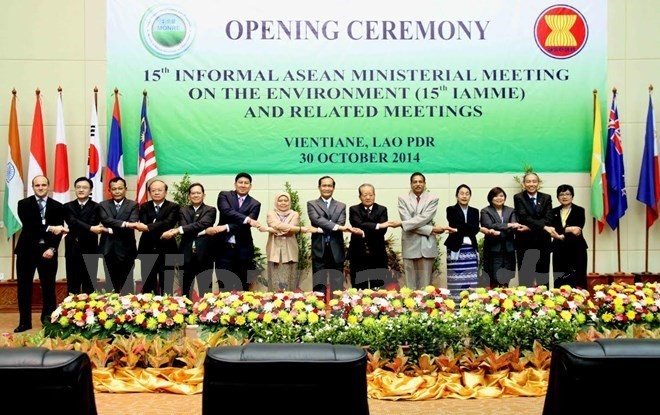 Participants pose for photo at the 15th Informal ASEAN Ministerial Meeting on the Environment in Vientiane last October (Photo: VNA)
The cooperation in the field of environment has received attention by the Association of South East Asian Nations (ASEAN) since an early date. The bloc compiled the first ASEAN Sub-regional Environment Programme (ASEP I) in 1977, and in 1989, two new mechanisms were launched in the field, which were the ASEAN Senior Officials on Environment (ASOEN) Meeting and the AMME.
The AMME is convened every three years to decide the bloc's strategy and policies on ASEAN cooperation in environment-related issues. The first AMME was held in Manila, the Philippines, on April 30, 1981. ASEAN members will host the event on a rotary basis.
On the sidelines of the AMME, other meetings such as the AMME+3 and East Asia Summit-AMME meetings are held to promote collaboration in the field between ASEAN and its partners and dialogue partners.
The ASEAN Vision beyond 2015 has defined the goal for a green and clean ASEAN Community with adequate mechanisms serving sustainable development in order to ensure environmental protection in the region, the sustainability of natural resources and high life quality of each citizen.
ASEAN environment ministers have established a working group on Environmental Education and adopted an ASEAN action plan on environmental education (AEEAP) for the 2014-2018 period with a view of promoting sustainable development via education and increase the public's engagement in environmental issues.
An ASEAN Regional Centre for Biodiversity Conservation (ARCBC) has been set up with financial support of the European Union, with the task of strengthening regional collaboration in the field while serving as the coordinator for connectivity among related agencies of ASEAN member states and EU partners.
In 2008, the ASEAN built guidelines on marine water quality management and monitoring manual with the goal of improving member countries' capacity in implementing the ASEAN water resources standards.
ASEAN has also built and implemented a working plan to carry out the ASEAN Agreement on Transboundary Haze Pollution. The ministers have also agreed to submit a proposal on a Haze Supevision Mechanism to ASEAN leaders for approval.
The 12th AMME, held in Bangkok, Thailand in 2012, adopted the Bangkok Declaration on ASEAN Environmental Cooperation, which reiterated the resolve and commitment of member nations to further push forward with the cooperation in the field towards a green and clean ASEAN, a balance between economic growth and social development and sustainable environment, while continuing to work closely with the bloc's partners to respond to emerging global environmental challenges.
Besides other agreements, the AMME-12 approved an ASEAN action plan on coping with climate change initiated by Vietnam.