Vietnam will open a consulate in the US city of Houston not later than September, the Vietnamese Foreign Ministry's new spokeswoman, Nguyen Phuong Nga, told the media at a regular press conference on August 20.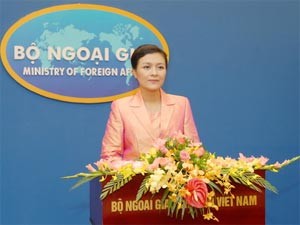 Nguyen Phuong Nga, who replaces Le Dung as the Foreign Ministry's spokesperson (Photo: Tuoi Tre)
Her predecessor, Le Dung, will head the new consulate in Houston, which, along with its neighboring areas, is home to around 85,000 ethnic Vietnamese, the second largest Vietnamese community after the one in Orange County, California.
The country also has a consular office in San Francisco and an embassy in Washington.
Ms. Nga also said the two-day fifth security dialogue between Vietnam and Australia, which began the same day, would focus on measures to strengthen bilateral ties.
The 46-year-old, who is fluent in English, French, and Russian and trained in international relations at the Moscow State Institute of International Relations in Russia, hoped that domestic and international media and diplomatic agencies would give her the same support they gave her predecessor.
Before the appointment, she was deputy head of the Foreign Ministry's Press and Information Department 
She has also worked at the Vietnamese embassies in Thailand, Belgium, and Luxembourg, and the Vietnamese Mission to the EU.