Vietnam will do its best to fulfill its international commitments and step up international cooperation to develop the country's IT industry, Prime Minister Nguyen Tan Dung told the 2009 World Information Technology Forum that opened in Hanoi on August 26.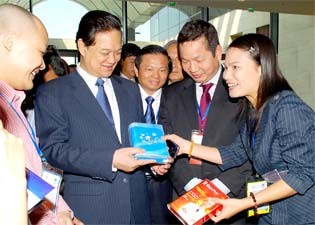 Prime Minister Nguyen Tan Dung (L, second) with delegates at the opening of the three-day World Information Technology Forum that opened in Hanoi on August 26 (Photo: SGGP)
It attaches great importance to IT development, considering it a spearhead sector and a leading instrument in implementing the millennium development goals, building an information society, and speeding up industrialization and modernization, the honorary president of the three-day forum said.
Themed "Information technology for sustainable development," the annual event is being attended by about 1,500 delegates from more than 70 countries and territories.
Deputy secretary-general of the International Telecommunication Union, Houlin Zhao, said Vietnam's IT sector has made great strides in the last five years compared with other countries in the region.
He hoped the forum would help the world learn about Vietnam's success story.

Vietnam has a good foundation for IT development and its IT sector is playing an increasingly important role in the region, Prof. Basie von Solms, president of the International Federation for Information Processing, which is the founder of WITFOR, said.
Management must match IT development needs: PM's aide
To become an information technology power by 2020 Vietnam needs to change its concept of management, the Prime Minister's special envoy on IT, Do Trung Ta, said.
Speaking at the "IT – Multilateral assessments" dialogue held on the sidelines of WITFOR between the Vietnamese Government, IT firms, and Vietnamese students and companies, he said the country must realize that management capabilities must meet the needs of IT development rather than the other way around.
Deputy Prime Minister Nguyen Thien Nhan said IT development requires several key factors, including a clear understanding of domestic and international demands, more foreign partnerships, and quality human resources.
Importantly, all these must be supported by a favorable legal environment, he added.
Vietnam's IT infrastructure is now fairly good and its IT services meet the public's basic demand, Nguyen Minh Hong, Deputy Minister of Information and Communications, said.
Deputy secretary-general of the International Telecommunication Union, Houlin Zhao, said that the Vietnamese Government has created favorable conditions for IT development.
Many foreign organizations are willing to help Vietnam train its personnel abroad or at home, he added.
By May 2009 a fourth of the Vietnamese population used the Internet, 10 times higher than in 2003 and second among Southeast Asian countries, Minister of Information and Communications Le Doan Hop said.
Vietnam ranks sixth in Asia in terms of Internet development and 18th in the world in terms of Internet users, he said.
In 2008, despite the impact of the global economic recession, the country's IT sector posted revenues of US$10 billion for a year-on-year growth of 20 percent, he added.
The leaders of three leading IT companies, Vo Tan Long of IBM Vietnam, Than Trong Phuc of Intel Vietnam, and Truong Gia Binh of FPT, spoke to students and businesses.
Besides ambition, career development also requires professional skills, including English and teamwork ability, they emphasized.
If equipped with the two qualifications, young Vietnamese experts can create made-in-Vietnam software products that could sell in the world market, they said.
"First, create software and IT products to meet the domestic demand and if those products are generally accepted by consumers, then they will have a good chance of entering the world market," Mr. Binh said.