The National Traffic Safety Committee and the Directorate of Roads in Vietnam launched the program 'Month of National Traffic Safety 2011' under the theme "Prevent drunken-driving" in a ceremony in Hanoi on August 31.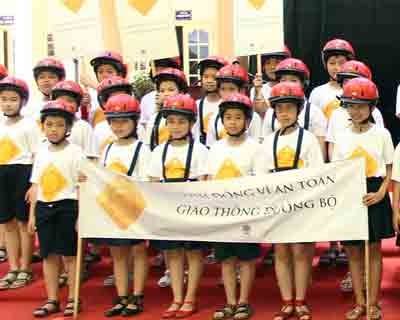 Wearing helmets minimizes head injuries in a traffic accident (Photo: Dang Quang)
Speaking at the launch ceremony, Pham Quang Vinh, deputy head of the Directorate of Roads in Vietnam (DRVN) under the Ministry of Transport, said 7,463 traffic accidents, claiming 6,358 lives and injuring 5,846 people, were reported from across the country in the first seven months of this year. Serious traffic accidents are also showing an upward trend.
DRVN is determined to contain the number of occurring road accidents and plans to pay close attention to vulnerable and accident prone "black spots" along the national highway No.1 such as Phuoc Tuong and Phu Gia areas in the northern mountainous provinces and along Mang Yang Hill on the highway No.19.
 
There are also plans to step up on public awareness campaigns on traffic rules, the dangerous consequences of drunken-driving and ways to check alcohol levels in drivers.
Authorities are now installing soft stakes as dividers on lanes, setting up speed limit signs, placing more warning signs along sections most susceptible to accidents, building speed breakers at various intervals, broadening road curves and improving steep hill roads leading to mountain passes.