Viet Nam will co-ordinate closely with China to fight corruption, Vice State President Nguyen Thi Doan said yesterday.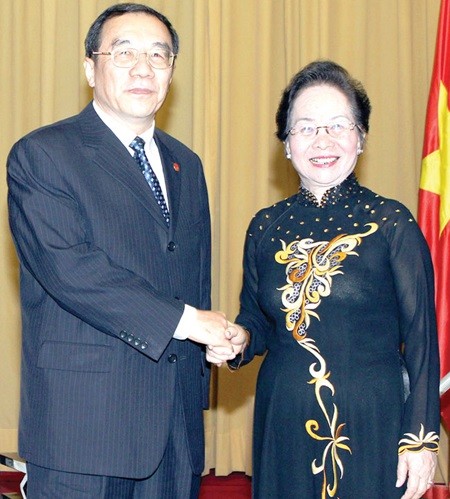 Vice President Nguyen Thi Doan (right) meets Yang Xiaodu, Deputy Secretary of the Communist Party of China Central Committee's Commission for Discipline Inspection yesterday in Ha Noi. — VNA/VNS Photo Nguyen Dan
Doan held a reception for Yang Xiaodu, deputy secretary of the Communist Party of China Central Committee's Commission for Discipline Inspection.
The Vice President valued the outcomes of the talks between the Chinese delegation and the Communist Party of Viet Nam Central Committee's Commission for Inspection and the Government Inspectorate.
She also spoke highly of China's recent socio-economic achievements, voicing her belief that the country would fulfill its integration and development goals.
Lauding China's success in corruption prevention, Doan said the Vietnamese Party and State considered fighting corruption to be of the utmost importance.
She also applauded the Chinese commission's co-operation with the Vietnamese commission and inspectorate. The two bodies exchanged experiences and lessons learned.
At the meeting, Yang hailed Viet Nam's reform progress and briefed the host on the outcomes of his working visit.
He emphasised that China attached special importance to battling corruption and would be willing to enhance co-operation to reduce and eliminate the crime.
More collaboration
On the same day, Deputy Secretary Yang Xiaodu suggested facilitating high-level visits and personnel training during his talks with Government Inspector General Huynh Phong Tranh.
Yang said the increased collaboration would benefit both sides, since they face similar matters of concern.
Tranh said over the past time, inspections and supervision have basically met UN Convention against Corruption requirements, increasing the country's international acclaim.
The Government Inspectorate has launched regular and unscheduled inspections on sectors of public interest, including health care, education, labour-social affairs, natural resources and environment, land and credit, among others, he said.
In the coming time, it will inspect the accountability and law-abiding practices by officials and cadres, he added.
During the talks, the sides updated each other on their respective socio-economic developments and shared experiences with corruption.