At the 8th session of the 13th Standing Committee meeting of the National Assembly in Hanoi on May 5, it was discussed that even though public investment funding on construction projects had increased, the results were far from effective.
Vietnam is planning on restructuring its economy, which will include cutting down on public investment funding. The restructuring plan will be submitted to the National Assembly at its next session.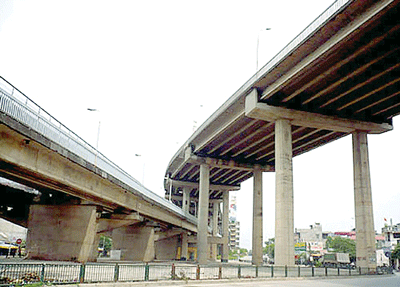 Thang Long Bridge is an example of one of the most expensive and carelessly planned constructions and misuse of public investment funding (Photo: SGGP)
At the National Assembly meeting it was announced that public investment funding in 2011 had increased, with the total spending last year being VND100,167 billion (US$ 4.8 million), exceeding by 13.8 per cent the estimated budget. Around 23 per cent of this amount was for development projects.
For instance, the transport sector had the highest investment with VND2,167 billion, equivalent to 29 per cent of the whole year budget plan and 11.4 per cent higher than in the same period last year.
Despite this huge expense, the sector is requiring more funding in the future. According to the industrialisation plan set forth by the Ministry of Transport till the year 2020, the sector will invest another VND223 trillion.
More noticeably, the ministry announced its demand for VND12,170 billion to upgrade its offices and those of its agencies and sub-divisions. Apart from this amount, it requires VND7,950 billion from 2012-2015 for constructing new headquarters and other offices. (VND1 trillion for the headquarter building and VND4,800 billion for offices of its agencies and departments).
Phung Quoc Hien, chairman of the Finance and Budget Committee, said that in the context of public investment funding, the country also needs to boost its savings but some sectors still continue to spend far too much; this will increase pressure on public investment restructuring and comprehensive economic planning.
Another factor of concern is that increased public investment funding on construction projects has not been as effective as expected in the eyes of the people. Participants at the NA meeting pointed out that lack of interest and lax supervision of construction projects was the reason that most projects have failed to deliver.
According to the state budget law issued in 2004, investments will be allocated to sectors and localities offering more initiative, and local governments themselves will approve the projects while only a few will be approved by the Prime Minister. It is a loophole that has led to waste at a time when the country needs to boost its savings.
Meanwhile related agencies promise supervision of construction projects but take no responsibility. According to a report of the Ministry of Planning and Investment, 110 of the 124 agencies sent its reports of supervision of public construction works in 2011, accounting for 88.7 per cent , much lower than 2010.
Furthermore, it was discovered that slow progress of many projects used up 30 per cent of state investment funding. For instance, during 2011, Vietnam had a total of 38,420 projects, of which 4,436 projects were running behind schedule.
The slow progress of these projects is one of the reasons for increase in costs and a negative impact on the economy.