The Vietnamese Party and State bestow importance to increasing diversified cooperation with Denmark, including the ties with Danish Social Democratic Party, the Congress and its people.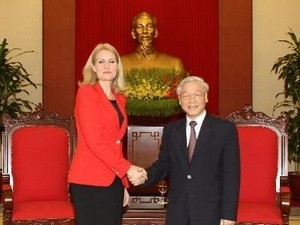 Party General Secreatary Nguyen Phu Trong shakes hands with Danish Prime Minister Helle Thorning-Schmidt at the Party General Secreatary office in Hanoi on November 8, 2012.
General Secretary of the Communist Party of Vietnam (CPV) Nguyen Phu Trong made the statement while receiving Danish Prime Minister Helle Thorning-Schmidt in Hanoi on November 8.
He said he hopes Denmark will continue supporting Vietnam in the time to come, and expand multifaceted cooperation in fields of the two states' strengths.
Thorning-Schmidt said the Danish Government will continue boosting cooperation with Vietnam in effectively implementing the Joint Declaration on establishing the strategic partnership in climate change, energy, environment and green growth, as well as bringing the bilateral ties to a comprehensive partnership.
She believes the two countries' relations will be increasingly strengthened in a more all-around manner in the coming years.
The same day, at a meeting with Vietnamese President Truong Tan Sang, Thorning-Schmidt said Vietnam is among 10 countries Denmark has selected for building cooperation strategy for the future.
Denmark is encouraging its businesses to invest in energy, healthcare, education and seafood processing in Vietnam , she said, adding that Denmark has experience and technology in green growth and is willing to share it with Vietnam .
Sang said the Vietnamese Government will create all possible favourable conditions for Danish businesses to operate effectively in Vietnam .
Speaking highly of the talks between the two countries' prime ministers, Sang said he hopes the two Governments will work out effective cooperation programmes to deepen the two nations' friendship.
The same day, Thorning-Schmidt launched a new growth campaign for Vietnam at a press briefing. She said the event will further strengthen strategic partnership between Denmark and Vietnam , with a priority being given to trade.
She added that through the growth campaign, the Danish government will increase cooperation between the State and private sectors. She also promised to bring Danish solutions to help the country overcome challenges in green growth, waste treatment and clean water.
Earlier on November 7, Thorning-Schmidt met with students of Xa Dan primary school and conveyed the message "Education first", on the occasion she received the title of "Champion for Education" by the United Nations.
Also on November 7, the Danish PM and Health Minister Nguyen Thi Kim Tien witnessed the signing of a Memorandum of Understanding for diabetes care in Vietnam for the 2012 – 2015 period between the Vietnamese Ministry of Public Health and Denmark's Novo Nordisk company.
The two leaders also cut the ribbon to launch a mobile treatment vehicle that will be used to provide medical check-ups and treatment to Vietnamese diabetes patients across the country.